After a horrible accident with a shotgun that destroyed her face and left her blind, Chrissy Steltz made incredible strides toward living a normal life.
Steltz, 16 years old at the time of the accident, learned to read Braille and use a cane. She met her partner in a school for the blind, and gave birth to a son.
Despite her full life, there was still one thing that Steltz felt she was missing: a face for her young son to look into. To cover her injuries, she wore a black sleeping mask.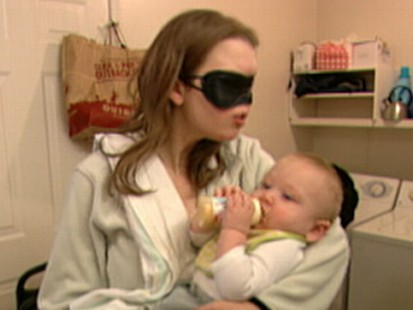 Click HERE to read Part 1 of the Chrissy Steltz story.
"I would like for him to be able to grow up with his mom not needing a sleep-shade," Steltz told "20/20." "Just looking like everyone else, really."
Thanks to a team of doctors, Steltz will get her wish: a custom-made, prosthetic face.
"I feel like this surgery is going to be the end of one chapter of my life and a beginning of a whole new chapter," said Steltz. "I just think that this prosthetic is going to start a whole new part of my life where I will be able to feel more like a regular Jane again."
Blind Love: Attempt at New Surgery
Because she has no eye sockets or sinus cavity, Steltz is not a candidate for a face transplant. But the prosthesis will mask the missing sections of her face with artificial eyes and a nose made of silicon.
Doctors will surgically embed eight implants into the bones of Steltz's face. Magnets in the prosthesis will adhere to the implants and hold the artificial face in place.
They have never attempted this type of operation for an injury as extensive as Steltz's.
"It's unique to have an injury of this magnitude to the middle part of the face that removes the vision of both eyes, that removes the nose yet allows the injury to the base of the brain to heal," said Dr. Eric Dierks, who has performed many operations on Steltz.
Incredibly, Steltz still lives with dozens of pellets from the shotgun blast lodged so deeply in her brain that they can never be removed.
Blind Love: 'She Must Be Pretty Stubborn'
On the day of her surgery, Steltz's family gathered in her hospital room.
Steltz's mother, Jeannie, says the family has fought alongside its daughter for more than a decade.
"She's very amazing," said Jeannie Steltz. "What she's been through is a lot. We've all been through a lot. We've almost lost her three times now. But she must be pretty stubborn to be able to go through everything she's been through."
At 8 a.m. Steltz is wheeled into surgery -- the final step in a journey that began 11 years ago.
The surgery will last for three hours. Over the years her face has been rebuilt with bone taken from her right leg, skin grafts and dozens of screws and metal plates.
Now surgeons have to work around those obstacles to embed the implants.
And it's not cheap. All told, it will cost nearly $20,000 for Steltz's new face. But because the procedure is considered cosmetic, Steltz's health insurance won't cover it.
Dierks and the other physicians are donating their time and services so that Steltz can have a face.
If all goes as planned, this summer Steltz will emerge with a new face and a new beginning.
Blind Love: Fairy Tale Ending?
Steltz talked about what she'd gained since her accident.
"The love of my life," she said, laughing. "And the baby of my life."
We asked her whether she would change anything if she could do it all over again.
"You know, I wouldn't think so," Steltz said. "I feel blessed. And if I were to change any one thing, I'd be afraid it would change everything.
"I have lived an exciting life. For being blind, I've done a lot of really exciting things, you know? I have made the most of what could've been a very bad situation. I took a tragic beginning, almost, and turned it into what I could call my fairy tale ending."