Following fatal explosions at Western targets in Jakarta, Indonesia last night, NYPD officers have been deployed to major New York City hotels to provide increased security in the aftermath of the bombings.
The NYPD said today that immediately after the explosions, marked NYPD "critical response vehicles" arrived at dozens of New York hotels, including the Marriott and Ritz Carlton – the targets in Jakarta.
Police Commission Raymond W. Kelly said that while New York has not received a similar threat, standard practice requires "such precautions and to brief security directors in New York of what we learn."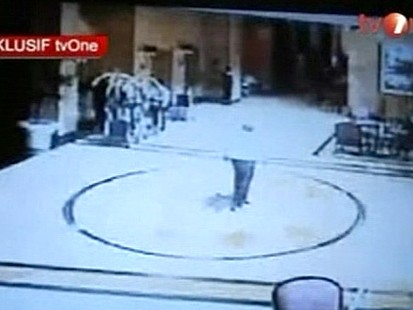 An NYPD lieutenant on scene in Jakarta as an part of the Intelligence Bureau, briefed about 60 security directors for New York attractions and institutions via teleconference Friday afternoon. The directors, together at the NYPD's Lower Manhattan Security Coordination Center, were shown a video of a suicide bomber entering the Jakarta Marriott hotel, a roller bag and backpack strapped across his chest. According to the NYPD, the video shows the bomber going around metal detectors at the hotel, capturing the attention of security personnel, but not before it was too late.
ABC News has confirmed that 9 people were killed in the bombings, with at least 52 injured, including 18 foreigners. The U.S. State Department said Friday afternoon that eight American are among the injured, with non-life threatening injuries, and that some of these victims had been medically evacuated to Singapore. No Americans were killed in the blasts.
According to authorities, eyewitnesses at both the targeted Ritz Carlton and Marriott hotels identified the bombers in the synchronized attacks as males, probably of Indonesian descent, who they had seen during the past two days. Authorities believe both bombers checked in as hotel guests about two days ago.
In the Marriott attack, where an unexploded device was discovered in an 18th floor room believed to have been occupied by that bomber for the past two days, authorities did not immediately have an explanation for the unexploded device, which technicians were now examining for clues or "signatures" that would identify a bomb maker or style of bomb assembly.
Authorities have inferred from the locations, time of day and day of week of the attacks, that foreigners were targeted.
Click Here for the Blotter Homepage.