This recession has no lack of villains, from super scammers like Bernard Madoff, to executives who took multi-million dollar bonuses as their companies crumbled.
But there also are plenty of Americans who have done extraordinarily generous things.
Call them recession angels, people who have taken their own money and given it to employees and their communities just as everybody else has been cutting back.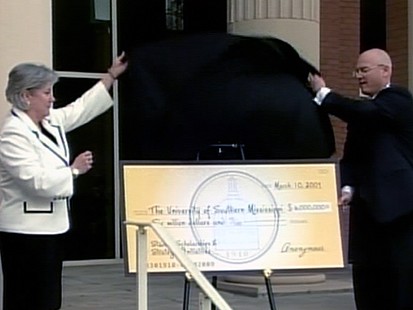 Watch this story on "World News" TONIGHT at 6:30 p.m. ET.
Not everyone is willing to take credit for their good deeds: In recent weeks, at least nine American universities have received donations of well more than $1 million each from anonymous donors, the Associated Press reported. The donations ranged in size from $1.5 million for the University of North Carolina-Asheville to $8 million for Purdue University in Indiana.
"We are just so overwhelmed by the generosity of this anonymous donor's gift," Purdue spokeswoman Jeanne Norberg told ABC News. "And it really reinforces, I think, the goodness of people that is just so uplifting for us."
At the University of Southern Mississippi -- which received $6 million from an anonymous donor in March -- the gift came in the nick of time.
David Wolf, USM's vice president for advancement, said that the recession and faltering stock market had forced the university to cut back on scholarships.
"A number of our endowed scholarships will not be able to produce this year any earnings to provide scholarships," he said. "The timing of this gift couldn't be any more meaningful to a university like ours so we could pick up the slack and continue to grow."
College students aren't the only ones to benefit from the generosity of recession angels. On the next page, you'll find more stories of acts of kindness during these tough times.
Hospital Execs, Docs Donate to Save Hospital Jobs
Beth Israel Deaconess Medical Center, a teaching hospital of Harvard Medical School in Boston, took a hard hit when the economy took a turn for the worst.
Just a few weeks ago, the hospital was planning to eliminate about 600 jobs in an effort to cut into a reported $20 million budget gap. But that was before the hospital's senior executives and several doctors stepped in to give up a lot of their cash for the cause. Now, the hospital plans to cut only 140 jobs, saving the other 460.
The executives, including the hospital's chief executive, Paul Levy, took massive pay cuts in a move that is projected to save $1.4 million, according to a report by The Boston Herald.
In his blog "Running a Hospital," Levy also noted donations by several doctors and members of the staff totaling $350,000, an amount that has already saved 10 jobs. Levy and his wife have personally offered to match donations to the hospital from the staff at a rate of 10 percent for a little "extra incentive."
"I know this is very distressing," Levy wrote in the blog. "In my view, we have two ways to respond. We can retreat into isolation from one another ... or, we can look within and find that the values which have guided our care of patients and families are also the same values that apply to our care for one another."
The response has been "phenomenal" so far, said Dr. Mary Ann Stevenson, chairwoman of the Department of Radiation Oncology.
"Our staff within my department and staff in the hospital, it's overwhelming," Stevenson told ABC News. "You know, I think with all of the financial news and AIG, this was just a breath of fresh air, a way of doing things a little bit differently."
Birthday Parties for Homeless and Underprivileged Families
In Dallas, Matthew Pensky was about to turn 11 years old, but his family was not expecting to throw a customary birthday party.
Matthew's father, David, lost his job recently and the family lost their home to foreclosure.
But then the Penskys met Patricia Morris and her group called "Birthday Blessings." The nonprofit organization throws birthday parties for struggling families.
"My vision is to have this birthday blessing all over the world so that every child's life is celebrated," Morris told "Good Morning America."
The birthdays are all a kid could wish for with pizza, games and even face-painting.
"You can really see how God works for people, moving and inspiring people to different things," said Rose Williams, mother of two recent birthday revelers. "It really is awesome."
Free Daycare for Ohio Job Seekers
Out-of-work parents have one very big, very practical hurdle to get over while out on their job search: what to do with the kids when they have to go to interviews.
With the statewide unemployment rate around 10 percent in Ohio, thousands of families there are already struggling for cash, and paying for daycare can increase the strain even more.
But in Rocky River, Ohio, one woman has come to the rescue for parents across the region.
Stella Moga Kennedy, owner of Le Chaperon Rouge child care and development centers, is offering free child care for parents so they can go on job interviews.
With eight centers offering the service, the company has already helped dozens of parents leave their children and chase down the ever-elusive new career.
Free Clean Clothes for New Yorkers Heading to Interviews
You have to have something to wear to an interview, but getting interview clothes cleaned and pressed costs money that many unemployed people don't have.
Unless, that is, you happen to live on New York's Upper East Side, where Carlos Vasquez has taped up a small sign in the window of his dry cleaner, reading: "If you are unemployed and need an outfit clean for an interview, we will clean it for FREE."
And it's not the first time Vasquez has offered the service. After the terror attacks of Sept. 11, 2001, he did the same thing to give back to a healing community.
Pharmacist Gives Out $16,000 in $2 Bills
Danny Cottrell, the owner of a pharmacy in a tiny town in southern Alabama, fought the economic downturn in his own, unusual way.
He decided recently that the town of Brewton needed its own stimulus and that his 24 employees deserved a little something extra. So he doled out $16,000 in cash bonuses. Every full-time worker got $700 and every part-time employee got $300.
Cottrell asked only that his workers donate 15 percent to a charity or somebody who was in worse shape than they were, and then take the rest and spend it at local businesses. To track the local impact of his "stimulus," Cottrell handed out the bonuses in $2 bills.
"I handed them their $2 bills and turned them loose," he told ABC News. "They've done a good job. I've been very pleased. They bought into it. It's really been a lot of fun. It's sort of taken on a life of its own."
The money has been spent on clothing, livestock feed, auto parts and at restaurants and bakeries in the town of roughly 5,500 people.
"A lot of them were businesses that they had never been to before," Cottrell said. "They're like everybody else. They're immediately attracted to the big-box stores."
Lonna Jackson has worked for seven years as a cashier at Cottrell's pharmacy.
When Cottrell gathered his employees for an announcement, she and some of her co-workers feared the worst: layoffs. Then he announced the bonuses.
"We sat there, mouths opened. Some cried. We were all just in shock," Jackson said.
With her $700, Jackson donated money to a neighbor in need and then bought fabric for her sewing group which makes baby blankets for neonatal units at area hospitals. She plans on spending the rest of the money on car tires.
The money was a big help for Jackson who has been trimming her spending, fearing a layoff or some other recession-related challenge.
"You cut back on everything because you just don't know," she said.
When she got the cash, Jackson thought carefully about where to spend it.
"When you have it in your hand, it makes you think of the smaller stores and businesses that are struggling right now," she said.
And as cashier at the pharmacy, she has seen plenty of those $2 bills circle back to Cottrell's business.
"I just hope there are more people out there like him," she said.
Doctor Gives Free Health Care
Cottrell isn't alone in thinking that small acts of kindness can make a big difference in peoples' lives.
In the Minneapolis suburbs, a six-physician gynecological practice has started giving free preventive care to any of its existing patients who lost their medical insurance because of layoffs.
"It's not going to kill us to do a little extra work," Dr. K. Anthony Shibley said. "They probably already have enough bill collectors calling them."
The patients can get one free preventive-care visit and a free Pap smear. If they also want tests for sexually transmitted diseases or cholesterol screening, the doctors are offering those services at a reduced rate. The plan resulted from the worries of a few longtime patients who no longer had insurance.
"We have a doctor-patient relationship," Shibley said. "It's not exactly a business-client relationship."
Bank Owner Distributes $60 Million in Employee Bonuses
Perhaps the best-known recession angel is Leonard Abess Jr., who was recently singled out by President Obama for his generosity.
After selling his Miami bank in the fall, Abess quietly handed out $60 million in bonuses from his own pocket. The money didn't just go to bank executives but also to tellers, secretaries, clerks and former workers.
Using a formula to weigh years of service and salary, he divvied up the money among the bank's 399 current employees and 72 former ones. Checks ranged from tens of thousands of dollars to more than $100,000.
"My father was a banker," Abess recently told ABC News. "I grew up at the dinner table with tales of the depression and tales of what a banker meant to a community, about responsibility, handling other people's money. And that these are your neighbors, the people you live with, you see all the time and you have to protect their money."
Linda Naughton, who has worked at City National for 50 years, said, "There's no better place to work."
She started as a file clerk, rising to the position of managing senior vice president. "It's the only job I've ever had."
Abess, who remains as chairman and CEO of the bank, said its success is all about the workers, which is not a line you hear too often in corporate America today.
"When I sold the bank, I didn't want the money so I gave $60 million of it to my employees. And I feel really good about it," Abess said.
Indiana Food Drive
For the past three weeks, Scott Tuttle, president of Livin' Lite Recreational Vehicles, has been organizing a giant food distribution program with Feed The Children. He expects to give food and care packages to 6,000 people spread out over eight towns in northern Indiana.
"I do have a business to run, but you know what? Something like this is more important to me than just keeping my head down and taking care of myself," Tuttle said.
After coordinating with area churches, truck drivers and the food donors, he then got his hands dirty packing up boxes with other volunteers.
How much time has he put into the effort?
"I don't know. I haven't kept track of it," he said. "It's been a significant amount of time, but it's worth it."
Tuttle is very modest about this effort, which will feed unemployed families in this hard-hit area.
"I'm just typical of the kind of people around here," he said. "There just a lot of good people in this area and when other people are hurting, they're willing to go out of their way to help get them back on their feet and get through things."
Gourmet Chef Helps Homeless
Timothy Tucker used to work at high-end restaurants in Seattle and Dallas, catering to well-to-do Americans.
Today he couldn't be further from the well-heeled. Tucker is helping the homeless and those living below the poverty line in Louisville, Ky., learn to cook healthy meals using fresh ingredients. Tucker hopes that once they learn various culinary skills, they can land jobs at local restaurants.
"We've never seen anything like this before," he said of the current economic climate.
His classes, taught through the Salvation Army, also feed 400 people a day at a homeless shelter.
Tucker said that his program is "much more magical and special" than his prior jobs.
"Here we are able to cook great food and use it to heal people's lives," he said. "It's a much bigger thing in life that cooking incredibly beautiful food for people who have a lot of money to pay for it."
Student Skipping Spring Break to Build House
Spring break is typically a time to go to the beach, relax, party or on a more moderate budget stay home and relax on the couch with a good movie or two. But Haydar Ali, a junior at the University of Michigan, Dearborn, decided this year to spend his spring break helping an unemployed man in Detroit.
Ali led a team of college students for the United Way make upgrades at the man's house.
"In these times of economic decline, more than ever we need to step up as humans and help out," Ali said.
So no beer, beach or boardwalks for Ali. Just some lumber, nails and a lesson about the economy.
"Nobody is really immune to the recession and that's why we need to all get together and help out. That way, nobody goes down without a fight," he said. "We're all interrelated in this world."
Bailout Bill: Not Totally Altruistic
Other recessionary saints are giving away money to get attention.
Take the Web site BailoutBooth.com
The company's founder is on a national tour giving away money in high-traffic areas such as New York's Times Square and Washington's Union Station. He recently gave away $50,000 in cash -- ranging from $50 to $5,000 -- to anybody who walked up and explained why they need a bailout.
His message: Times are tough, and the government is taking its time to get money to the hands of individuals.
Oh, yeah, and there is a less idealistic reason. The Web site is trying to promote its new video classified service. Maybe not angelical, but at least creative.
Anne-Marie Dorning contributed to this report.