It's the end of the road for the popular but controversial Cash for Clunkers program.
When all is said and done, an estimated total of 750,000 new car sales will have resulted from the government program before it hits the scrap heap Monday night, according to the Department of Transporation.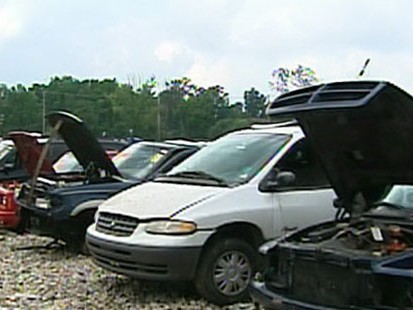 But car dealers planning to get reimbursed from the government won't be the only ones enjoying the benefits of Cash for Clunkers: Those selling used car parts will reap the benefits, too.
The unexpected ripple effect is clear at auto recycling yards such as Crazy Ray's in Silver Spring, Md.
"Business is great," said Joe Duff, co-owner of Crazy Ray's Used Auto Parts. "You can look around. There's plenty of people."
Crazy Ray's customer Jacob Holzman said, "These cars come in, in a lot better cosmetic condition, and I need a front bumper."
When Crazy Ray's has sold off the valuable parts, they crush the clunkers and send them to scrap yards.
Auto recycling and scrap industries say they won't feel the full effect of the program until September or October. That's because many dealers are holding onto the clunkers until they get paid by Uncle Sam.
Scrap Metal Sales Are Leading Economic Indicator
Still, Scott Horne, general counsel and vice president of government relations at the Institute of Scrap Recycling Industries, said the timing has already been fortuitous.
"Many of our members had faced laying off some of their employees as a result of getting back into running these materials," Horne said. "Some of them have started calling back laid-off employees."
Those selling scrap metal are a leading economic indicator.
"When they see the economy starting to turn, they place orders for the basic materials that they use," Horne said. "Steel, aluminum, copper. And in turn those folks start buying scrap because they need to make those new materials."
After it's all over, some of that scrap metal is sent back to automakers, who use it to make new cars for sale at dealerships -- providing an economic stimulus with a touch of reincarnation.