Joseph Casias, a cancer patient who was fired by Wal-Mart for using medical marijuana to cope with his pain is getting some big legal help from a national Constitutional rights organization. The American Civil Liberties Union and ACLU of Michigan along with a Michigan law firm have filed a lawsuit against Wal-Mart and the manager of the chain's Battle Creek, Mich., store for wrongfully firing Casias.
Casias, who is 30, was fired for a positive drug test even though he is legally registered to use marijuana under Michigan's medical marijuana law.
"Medical marijuana has had a life-changing positive effect for Joseph, but Wal-Mart made him pay a stiff and unfair price for his medicine," ACLU staff attorney Scott Michelman said in a statement. "No patient should be forced to choose between adequate pain relief and gainful employment, and no employer should be allowed to intrude upon private medical choices made by employees in consultation with their doctors."
Michigan is one of 14 states where medical marijuana is legal, but employers in the Wolverine state can and do terminate employees who fail drug tests. Wal-Mart policy, like the policy of other companies, indicates that in states such as Michigan which allow marijuana use for medical purposes, the store can still terminate an employee following a positive drug test. The law in Michigan says employers do not have to accommodate the ingestion of marijuana in the workplace or employees working while under the influence.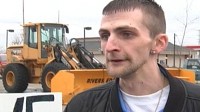 The news last November he'd been terminated was devastating for Casias who took great pride in his job, earning the honor of Associate of the Year.
"It hurts. It hurts because I care. I care a lot about the store. I always wanted to make sure I do well," he told ABC News back in March.
Casias started taking the medicine a year before then to cope with pain from sinus cancer and a brain tumor. He says the rare form of cancer causes him pain constantly and he almost died when he was first diagnosed.
Casias sprained his knee at work last November and underwent the routine drug test that follows all workplace injuries. Questioned about his positive test, Casias told management about his condition and presented a state card authorizing his marijuana use for medical purposes, but he was fired anyway. Casias says management told him Wal-Mart does not honor medical marijuana cards.
"I just can't believe that it has to be this way. I don't see why they have to fire me," he said.
"This is just an unfortunate situation all around," Wal-Mart spokesman Greg Rossiter told ABC News in March. "We're sympathetic to Mr. Casias' condition, but like other companies we have to consider the overall safety of our customers and our associates, including Mr. Casias when making a difficult decision like this."
Medical Marijuana Hazardous in Workplace?
Certainly using a mind-altering drug on the job is something that would trouble any employer, but Casias says he never used the marijuana before or during work. He was in severe pain regularly so it would make sense that the drug was detected given that it can take weeks for marijuana to leave the system.
Doctors say a number of medicines or combination of medicines, such as antihistamines, could pose a danger at the workplace. And medical marijuana, which is thought to be relatively safe, falls into the category of substances that could be hazardous to the workplace. Casias unloaded trucks for Wal-Mart.