Given that, it's surprising another magazine would apparently commit a similar sin. But Winslet graced the December cover of Vanity Fair looking svelte beyond belief. A photo spread inside the issue features Winslet sprawled atop a fur throw, the small of her back carved out as if it was made of clay.
Winslet opened up about this cover too, but this time it was to deny her image had been manipulated.
"Kate is furious at suggestions that her body has been airbrushed," her publicist told People magazine in November."She is in terrific shape and what you see is how she looks or she would never have agreed to pose for those shots."
Dartmouth professor Farid isn't buying it.
"All the body fat is removed, all the wrinkles are removed, the skin is smoothed out," he said. "Some of that is makeup and lighting -- professional stylists can do wonders -- but almost certainly what's been done is all of her blemishes and wrinkles have been digitally altered. There's a Photoshop tool that creates a very smooth effect. Effectively what you do is paint over the whole body."
Britney Spears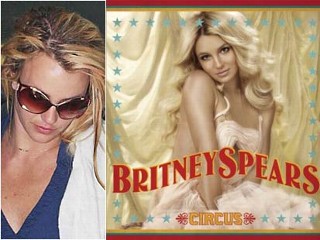 Her face has graced countless magazines, newspapers, blogs and posters. But the girl on the cover of her latest album doesn't appear to be Britney Spears at all, some argue.
"The skin tones are all completely fake," Farid said. "They probably curved her back in a bit, her face has been thinned out. Her hair's been lightened up to get that sort of angelic look."
The highlighting on her arm, the glow around her head -- the combined effect makes the "Circus" cover look more like a 19th century-style portrait of Spears than a photograph. Farid attributed that to the snowball effect that often occurs with airbrushing. (Spears' record label did not respond to requests for comment.)
"This is the danger with digital editing. It's a very slippery slope," he said. "You start off by removing blemishes, fixing hair, thinning limbs a little bit, then all of a sudden, you change one pixel, then a couple more and all of a sudden it's nothing like the original. It's like when you open the Oreo cookie bag and say, 'oh I'll eat four' and then reach in and say, 'what's two more?' Each step seems reasonable from the previous step. But then when you compare the first image to the last image, something really bad happens."
Kate Moss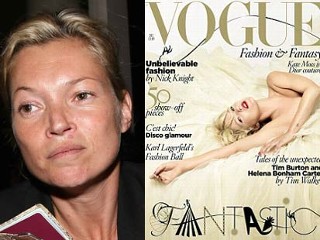 Kate Moss, paparazzi victim, doesn't seem to be related to Kate Moss, Vogue cover girl. The supermodel took on a new skin tone for the British edition's December cover, apparently thanks to the work of retouchers. But Farid characterized the images as two extremes, neither one an accurate depiction of Moss. (British Vogue did not immediately respond to requests for comment.)
"She probably looks like something between those two," he said. "In the studio you have very soft lighting, very good cameras, you're waiting for the right pose. The paparazzi are horribly unfair. They're shooting with flash, the images are grainy. It's a worst case versus a best case, unrealistic scenario."
Heidi Klum
You'd think Photoshop couldn't touch one of the world's premiere supermodels. You'd be wrong. Even with Heidi Klum's goddess- like proportions, Italian GQ still apparently felt the need to rebuild the "Project Runway" host's physique for its December cover and photo spread.
null
blog comments powered by

KCNA via KNS/AFP/Getty Images/Newscom

Scott Olson/Getty Images

Mark Milan/GC Images/Getty Images

A.E. Araiza/Arizona Daily Star/AP Photo

Lloyd Bishop/NBC