Braving cold winds and mass crowds, the entertainment industry's elite decamped to Washington for President Barack Obama's inauguration Tuesday. Director Spike Lee said walking in the winter weather paled in comparison to Obama's journey to the nation's top office.
"It's nothing compared to the many years, the hundred years, it took to get to this point in history," Lee told ABC News' Robin Roberts. "This is a celebration and I'm glad to be here."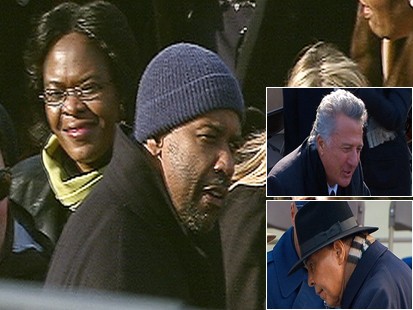 Oscar-winning actor Denzel Washington reveled in the day's "vibe."
"I am hopeful. I am full of hope," he told ABC News Radio. "You know, I feel that we can only go up from here, united. If we're all together, if we work together and respect our civic duty. I think we can go a long way together. But we all have to be engaged. It's not about just the president and what he says and what he does, it's about all of us."
Ex-NBA star Magic Johnson confessed he never thought he would see an African-American ascend to the Oval Office.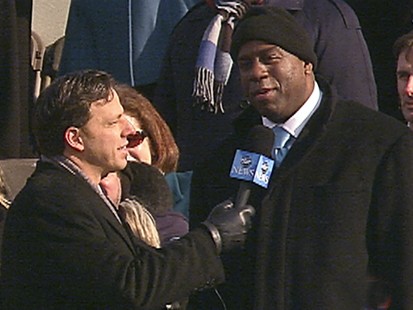 "There are a lot of emotions, really, because I never thought it would happen," he told ABC News' Jake Tapper. "It shows you how America has really grown and progressed, and we picked the best candidate and the best man for the job."
Johnson also said that if the basketball-playing president's down, he'll bring his A-game to the court.
"President Obama said he's going to change the bowling alley to a basketball court, and if I get that invitation, I will be there, and we will throw some elbows at each other and play some hoop and just have some fun," he said. "It would be my honor, my pleasure, to go play basketball with him."
Asked if he'd cut the non-pro some slack, Johnson joked, "I will only take it easy if he takes it easy on my taxes."
How Stars Would Serve First Family
Other celebrities told People magazine how they would serve the first family if they could ditch the screen and stage.
"I would want to be head baby sitter" for Obama's daughters, Malia, 10, and Sasha, 7, said "Bride Wars" and "Rachel Getting Married" star Anne Hathaway. "I'd love to be First Baby-sitter, absolutely."
"High School Musical" star Corbin Bleu would take the job of First Entertainer.
"I'll just go up and do performances for his kids all day and just keep them entertained," he told People. "They seem like really sweet girls. They seem very well mannered."
Common, the rapper who hails from Obama's Chi-town, would like to be "hip-hop ambassador. ... I could deal with social issues like not having parents. I'd work with that and pay attention specifically to the children."
And some would want a gig in the nation's top office just for the perks.
"If I'm the secretary of state, does that mean I get to wear a secretary outfit?" "I Kissed a Girl" singer Katy Perry said. "[I'd] probably [want] that position just for the fashion."