A Rihanna-Chris Brown reunion is less than a month away.
The two will convene in the same court room June 22 for a preliminary hearing in the assault case against Brown, according to Rihanna's lawyer, Donald Etra. He and Brown's lawyer, Mark Geragos, appeared in a Los Angeles court today. Brown pleaded not guilty to felony assault charges in April.
"The District Attorney advised me this morning that [Rihanna] will be subpoenaed. I will accept the subpoena for her; she will appear as required by the subpoena," Etra told ABCNews.com. "If the DA calls her to testify, she will do so. She will answer all questions posed to her."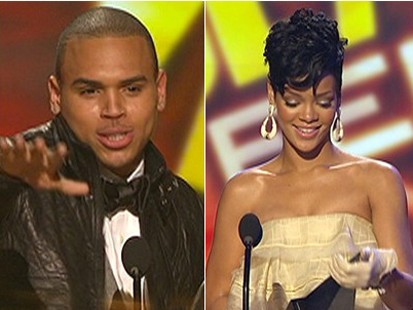 Etra declined to comment on the state of Rihanna's relationship with Brown. ABCNews.com's calls to Geragos were not returned. Earlier this month, he filed papers in a Los Angeles court asking the city's police department to explain how
photos of a beaten Rihanna
, taken after the alleged altercation, were leaked on the Internet. Today, a judge rejected Geragos' motion.
Adding to Brown's drama, a photographer filed a lawsuit against him Wednesday claiming the singer's bodyguards assaulted him when he tried to take a picture of Brown playing basketball. However, in a video shot immediately after the incident and posted by TMZ.com, the photog calls the altercation "no big deal."
This week, after months of silence, Brown finally made a public statement about his alleged attack on Rihanna. He wants his "haters" to know that he's not a monster -- and by the way, buy his new album, too.
In two videos that surfaced on YouTube this week, the R&B singer, who was charged with beating, biting and choking pop star Rihanna the night before February's Grammy Awards, lashes out at his critics and at blogs who published police photos of Rihanna bloodied, bruised and sporting a black eye.
"Everybody that's haters, they just been haters," Brown says. "All my real fans, I love you all. I ain't a monster."
Prior to that, the platinum-selling singer announces, "I've got a new album, gonna be coming soon. ... I'm about to drop a single this summer for y'all. We ain't going nowhere."
In another video, Brown proclaims, "All the blog sites are liars. You guys lie. No black eye. You guys are liars."
The June 22 preliminary hearing would be the first reunion in months for Brown and Rihanna. Although Rihanna reportedly reconciled with Brown in Miami shortly after his alleged attack on her, they haven't been seen together since March. In recent weeks, they seem to have drifted further apart.
Rihanna Forging Ahead Without Brown
According to The New York Daily News, both stars plan to spend the summer working on film projects -- she in New York and he in Memphis and Los Angeles.
Rihanna, 21, unofficially re-introduced herself to the A-list party scene earlier this month, with her solo red carpet appearance at New York's Metropolitan Museum of Art's costume gala. She also hit the town with her new BFF, singer Katy Perry, and has been romantically linked to the likes of Kanye West and rapper Aubrey Graham.
Rihanna seems to be practicing what she sings. According to People magazine, on May 18, she jumped on a banquette at NYC hot spot 1Oak and gave an impromptu performance of her feel-good hit song with T.I., "Live Your Life."
Brown, meanwhile, celebrated his 20th birthday on May 5 at a reportedly low-key affair in his Virginia hometown. Besides the videos posted online this week and a statement released in February by his representatives that said he's "saddened" and "seeking counseling," Brown has kept a low profile.
Rihanna seems to be taking steps in the right direction, according to Emil Wilbekin, editor-in-chief of Giant.com, a culture, style and celebrity Web site affiliated with BlackPlanet.com.
"I think Rihanna is being smart about her career and had to make some tough choices," he said. "It was very clear after the incident that her pop star status was waning and that the public was questioning her actions, so she's made a break from Chris and is being strong and going forward with her career and her life."
Initially, it appeared that Rihanna was siding with Brown. Although she was not present at Brown's first court appearance in March, her attorney, Etra, told the court that Rihanna opposed a "stay away" order.
Later, Etra was overheard telling Brown, "I think Rihanna would like this resolved as quickly as possible, as well."
When Brown said he was confused, Geragos, his lawyer, interrupted him and said, "I explained that the best thing that could happen in this case is that Don is involved. Didn't I tell you that before?"
But lately, Rihanna hasn't come to Brown's defense in public. At a Beenie Man concert in Jamaica last month, the rapper brought Rihanna onstage and started talking about the incident with Brown, asking the crowd whether they thought Brown was an idiot. Then, rapping to her hit tune "Umbrella," Beenie Man said, "I don't have no fancy car, but I'll never give you no scar."
Rihanna Not Likely to Tell All Anytime Soon
Many were surprised when Rihanna reportedly reconciled with Brown at Diddy's Miami mansion in late February.
"I don't know how to feel about it," singer Shontelle said at the time. Shontelle grew up with Rihanna in Barbados and has worked with her on multiple songs.
"You see that photo and your heart just breaks," she said, referring to the photos of Rihanna's swollen, cut face. "You think she's going to do one thing and then it's something else. I wish I knew what was going on."
Shontelle also recognized fans' need for Rihanna to explain what happened with Brown. Rihanna has yet to speak publicly about the alleged attack and anything that's happened since then.
"Sometimes people say, 'I'm not trying to be a role model,' but it comes with the territory," Shontelle said. "Once you're in the spotlight, people look up to you. If you're in a position where you can set a good example, that's what you should try to do."
Wilbekin said it's unlikely we'll hear Rihanna's side of the story anytime soon.
"It may be something like Tina Turner -- she will share, but much later. She's too young and she's still processing it all," Wilbekin said.
Like Turner, Rihanna should be able to overcome the entire incident and its aftermath and go on to resume a successful career, Wilbekin said. She will do so as a wiser person.
"You see Rihanna out and about town, she's doing red carpet and shopping," Wilbekin said. "Still, there's a sadness about her, like there's been an innocence lost."