Hewitt is another celebrity who has faced scrutiny after packing on extra pounds.
Last year, the actress defended herself against nasty headlines after an unflattering photo of her in a bikini went viral.
"What I should be doing is celebrating some of the best days of my life and my engagement to the man of my dreams, instead of having to deal with photographers taking invasive pictures from bad angles," she wrote on her Web page in January 2008. "Like all women out there should, I love my body."
Eight months later, a slimmed-down Hewitt was on the cover of Us Weekly, boasting an 18-pound drop in 10 weeks. And in the October issue of Self, she again donned a bikini, claiming that her no. 1 weight loss trick is burning the scale.
Kinzel said when Hewitt and Simpson have a "bad month" they end up the subject of all the blogs' fury. Then, when they lose the weight, they land on the magazine covers. Such stories, Kinzel said, bring media attention to them, while sending a message that their yo-yo cycle of gaining, dieting and losing, is normal when it's really unhealthy and even dangerous.
Mel B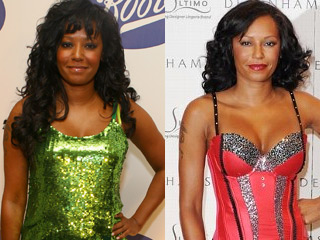 Scary Spice was looking downright scary in 2007 after packing on the pounds following the birth of her daughter Phoenix (Eddie Murphy is the daddy).
But then, the former Spice Girl took matters into her own hands with healthy eating and a strict exercise regimen, losing 42 pounds in eight weeks.
She maintains it now with her own Mel B workout videos that combine fat-burning cardio dance-based moves with stomach-, butt- and thigh-tightening exercises.
Valerie Bertinelli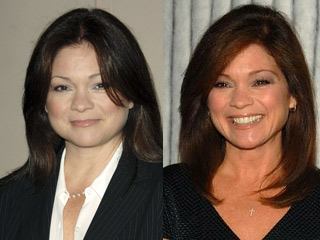 Kinzel warns Bertinelli, the "One Day at a Time" actress, to watch out: "Kirstie Alley is Valerie Bertinelli's future."
Celebs Win and Lose With Weight
"The only thing that she's famous for right now is losing weight," Kinzel said. "That's why we're interested in her life all of a sudden."
Indeed, Bertinelli is milking her time in the spotlight as a Jenny Craig spokesperson, with a bestselling book and clad in a bikini on the cover of People magazine.
Up:
Mariah Carey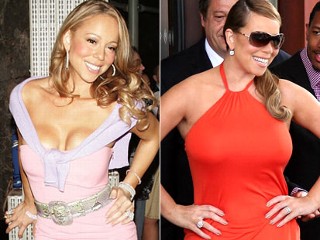 There's a widespread belief that marriage and weight gain go together. (Think of the phrase, "fat and happy.") In fact, studies have shown that newly married men and women gain 6 to 9 pounds more than their peers who are single and dating.
Mariah Carey, whose weight has been known to yo-yo, has certainly put on the post-nuptial pounds. "I'm a curvy girl and switch around with my diets all the time," she has said.
Some of the gain came while Carey was recording her latest album, "Imperfect Angel." An inside source told the New York Post: "[Mariah will] definitely tone up again when she releases her album, but as of now, she's stuffing her face."
But some of the extra pounds surely came from being in love with husband Nick Cannon.
"I love to eat," Carey told a reporter in June. "I never knew I could be this happy – it's pure bliss."
Kirstie Alley
blog comments powered by

Courtesy Dallas Police Department

Christopher Polk/Getty Images

WBFF FOX45 Baltimore

Courtesy Chattanooga Zoo