It's no coincidence; all three actresses appear to be aging gracefully -- without medical intervention.
Recently on the red carpet, Roberts credited her husband Danny Moder and "joy -- that's one and the same," for her youthful looks.
Here's how other female celebrities over 40 are refashioning their middle years:
Jennifer Aniston:
While Aniston has confessed to trying Botox once and wouldn't rule it out again, she told the U.K.'s Harper's Bazaar that she is proud of her wrinkles.
"These lines are just about living," she said. "Look, I eat really well and I work out, but I also indulge when I want to. I don't starve myself in an extremist way. You're not taking away my coffee or my dairy or my glass of wine because I'd be devastated."
Halle Berry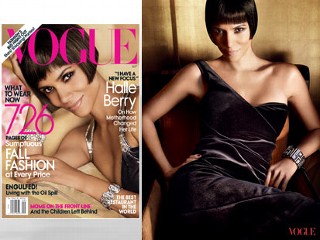 Berry says motherhood in her 40s has grounded her and brought her a clearer understanding of her difficult childhood.
"I have a new focus that's outside myself," she tells the current issue of Vogue, "and that feels really good, in your 40s, to have arrived at that place. I'm actually lucky and grateful that I waited until an age when I can really be present."
To stay in shape, Berry works out five days a week with celebrity trainer Gunnar Peterson. "I do not love to work out but if I stick to exercising every day and put the right things in my mouth, then my diabetes just stays in check," said Berry, who was able to wean herself off insulin
Naomi Watts
Australian actress Naomi Watts, 41, scoffed at the thought of plastic surgery. "God, no!," she told the U.K.'s Daily Mail in 2008. "People my age and younger are having so much work done, but my view is that it's a terrible thing to mess with your face. As an actress, my job is to express myself. No, seriously, we've got to allow ourselves to age gracefully. And somebody's got to play the old ladies."
Instead, Watts shared some of her beauty tips: "Meditating and being with nature in the countryside. I love being outside with trees and water, lying down somewhere or walking. I love the ocean air and sleeping. I'm good at sleeping. I do transcendental meditation, which keeps me calm and steady. I also drink lots of water and have a facial every six to eight weeks."
Cindy Crawford
In 2009, supermodel Cindy Crawford admitted undergoing Botox procedures 10 years earlier, but today, at 44, she is much more relaxed about aging.
"I think I look pretty good," she told Allure magazine last year. "But I don't look the way I did when I was 23. So if Star magazine or whatever wants to print a picture of me on the beach from the back, at the worst possible angle, and say that I have cellulite, I'm like, 'Guess what? I do, and I never said I didn't'."
"Basically, I take care of myself, but I don't want to be obsessive," Crawford said. "And I don't want to not like who I am today. I'm all for fighting the good fight, but I don't care how much you work out or how much cream you put on -- things change."
Demi Moore
At 47, Demi Moore remains a popular cover girl for fashion magazines. She's also been dogged by rumors that she's had plastic surgery.
"It's completely false -- I've never had it done," she told Marie Claire last year. "I would never judge those who have -- if it's the best thing for them then I don't see a problem. But I don't like the idea of having an operation to hold up the aging process -- it's a way to combat your neurosis. The scalpel won't make you happy."
Salma Hayek
blog comments powered by

Anne Arundel County Police Department

Matt Dunham/AP Photo

Mike Segar/Reuters

Jacquelyn Martin/AP Photo

Hanife Erdinc/Anadolu Agency/Getty Images

Courtesy Jason Koons