At the New York premiere of the erotic psychological thriller, "Chloe," sex and marriage, the two themes at the heart of the plot, seemed to be taboo.
Blustery weather forced the press to the basement of the trendy Lower East Side Landmark Sunshine Theater, where reporters huddled together for the chance to interview the director and stars Julianne Moore and Amanda Seyfried. But Liam Neeson, the third star in the film's love triangle, did not appear at the U.S. premiere.
When Neeson's wife Natasha Richardson died a year ago in a freak skiing accident, he had to interrupt the filming of "Chloe." On the one-year anniversary of Richardson's death, fans can hardly blame Neeson for dodging media scrutiny.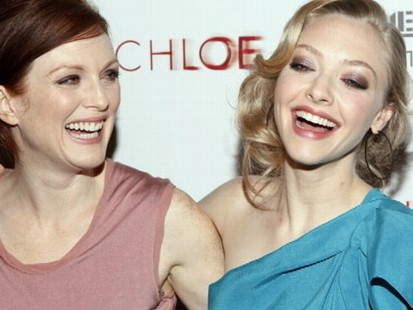 Aside from Richardson's death, the elephant on the red carpet was the movie's much-buzzed-about sex scene between Moore and Seyfried. "Chloe," based on the French film "Nathalie" from 2003, is the story of a gynecologist (Moore) who suspects her husband, a charming music professor (Neeson), is being unfaithful.
Moore hires a hooker named Chloe (Seyfried) to seduce him and prove her point. In the process, Moore falls for Seyfried and their affair eventually endangers Moore's family.
When asked about the movie's pivotal lesbian rendezvous, Moore, 25 years Seyfried's senior, told ABCNews.com: "It's part of the story. We're telling a story and it's really about that." But in reference to Seyfried as a colleague, Moore beamed, "She's great… Really, really terrific, [and] very professional. She's a really lovely actress, [and] very receptive."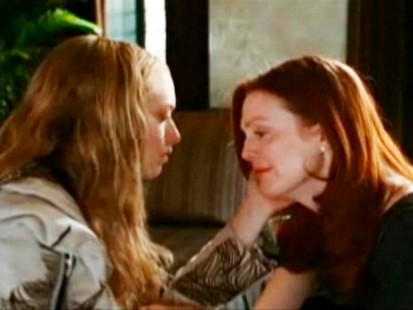 Egyptian Director Atom Egoyan was also reticent when discussing the Seyfried-Moore love scene, but for a different reason. Egoyan told ABCNews.com, "…It's kind of awesome really. The movie's about the two women having this strange kind of competing sense of what their fantasies of each other are …I don't want to give it away, but it just seems to me, if …[the chemistry] didn't work, [and] if there wasn't a lot going on between the two of them, this wouldn't have been a movie…. They're both so exceptional in these roles."
Egoyan sidestepped any discussion of Richardson and the film's production delay because of Neeson's hiatus. "He's very tall… He's really big…, I mean like he's exceptionally tall," Egoyan joked.
Seyfried, the rookie of the cast, was the most open about her onscreen romance with Moore. Asked what she learned from filming "Chloe," Seyfried said, "Well to be honest….I've realized that sex is not wrong."
Seyfried doesn't like being complimented for her good looks and admitted that when people on the street comment that's she gorgeous she "doesn't take them seriously." Seyfried, who hopes to film more dark films like "Chloe," also just wrapped taping her fourth and final season of the HBO series about polygamy, "Big Love."
She said of her role on the series, "I'm proud of my work. It was just hard…[when] films were happening and I wasn't working on them because I was working on "Big Love". It's not a commitment anymore, so it's not like I'm married."
"Chloe" is a dark film full of intrigue and drama. The story is a complex and haunting love triangle with artistic flair a la "Closer." But will this American version of a uniquely French tale resonate with fans? "Chloe" opens in theaters nationwide on March 26.