While Gosselaar's career is looking brighter -- he's shooting a new TNT series, "Franklin & Bash" -- his marriage is not doing so well. On June 18, he filed for divorce from his wife Lisa Ann Russell, according to People. The couple have two children, Michael Charles, 6, and Ava Lorenn, 4.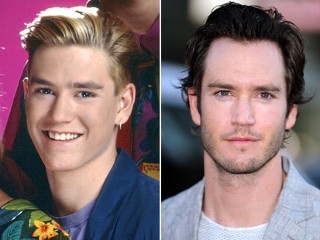 Mark-Paul Gosselaar as Zach and now.
As for Zach, there may be hope with Kelly -- if Jimmy Fallon has his way. Fallon, the late-night host, has been trying to organize a "class reunion" since last year. So far, Gosselaar, Voorhies, Berkley, Lopez and Dennis Haskins, who played Bayside's principal, have signed on. Tiffani Thiessen posted a parody video on the website Funny or Die, claiming she was too busy to participate.
Tiffani Thiessen/Kelly Kapowski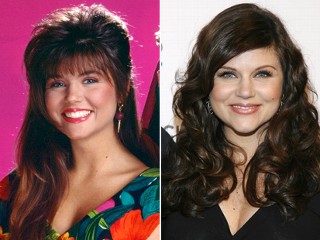 Tiffani Thiessen as Kelly and now.
Tiffani-Amber Thiessen (she later dropped the Amber) played the popular cheerleader at Bayside and Zach's on-again-off-again girlfriend. Diamond claims in his book that the on-screen couple carried on a romance in real life as well.
When the series ended, Thiessen moved to a more seductive ZIP code, "90210," to play the manipulative vixen Valerie Malone. Thiessen and co-star Brian Austin Green began a seven-year romance before Thiessen left the series in 1998. Green recently married another bright-eyed brunette beauty, Megan Fox.
In addition to a memorable role as Honey DeLune opposite Tim Meadows in 2000's "The Ladies Man," Thiessen played Billie on the short-lived series "Fastlane." Her most recent role on "What About Brian" was cut short when the series was canceled. Now 36, Thiessen, who is married to actor Brady Smith, has switced her focus to motherhood since giving birth to a daughter, Harper Renn Smith, in June. Elizabeth Berkley/Jessie Spano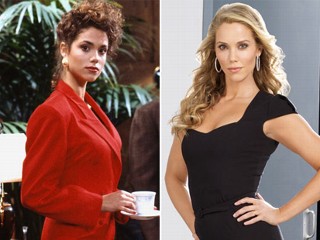 Elizabeth Berkley as Jessie and now.
After "Saved by the Bell," Elizabeth Berkley, who played Jessie Spano, shed her goodie-two-shoes reputation -- as well as her clothes -- when she starred as stripper Nomi Malone in 1995's "Showgirls."
While the critically panned role didn't catapult her to big-screen stardom, she followed it with a string of film appearances in "The First Wives Club," "The Real Blonde" and Woody Allen's "The Curse of the Jade Scorpion" and a series of stage appearances that earned her praise from critics.
Following in the footsteps of fellow Bayside alum Lopez, Berkley hosted Bravo's popular but shortlived "Step It Up and Dance" in 2008. Since then, she has starred on multiple episodes of "CSI: Miami" and Showtime's "The L Word."
Berkley, now 37, is married to designer Ralph Lauren's nephew, artist Greg Lauren.
Lark Voorhies/Lisa Turtle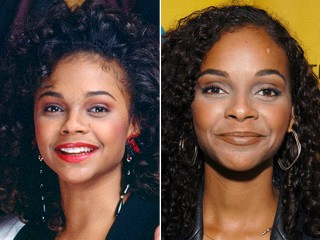 Lark Voorhies as Lisa Turtle and now.
Lark Voorhies didn't follow in the fashionable footsteps of her onscreen alter ego Lisa Turtle, but she did find mild success on the soap opera circuit on "Days of Our Lives" and "The Bold and the Beautiful."
She also scored stints on "The Fresh Prince of Bel-Air," "Star Trek: Deep Space Nine," and "In the House." Voorhies was often cast as the object of affection in music videos (notably for artists Dru Hill and Boys II Men) and comedies ("How to be a Player" and "How High").
blog comments powered by

The Associated Press

Getty Images