"If you're already starting from extreme wealth, that argument doesn't hold much water," he said. "They're already in a position to give money to charity."
But for better or for worse, the practice persists. Here, we run down some of the celebs who sold pictures of their newborn .
Angelina Jolie and Brad Pitt
Jolie and Pitt top the list when it comes to pricey pictures, reportedly raking in more than $14 million for their Aug. 18 People magazine cover of twins Knox and Vivienne. It was the magazine's best-selling cover in seven years, according to The New York Times. The pair also scored a hefty $4.1 million for pictures of their firstborn, Shiloh, who made her debut on People's June 19, 2006, cover, and an estimated $2 million for the first pictures of adopted son Pax Thien.
Jennifer Lopez and Marc Antony
Twins Max and Esme reportedly brought in a cool $5 million to $6 million for parents Jennifer Lopez and Marc Anthony for People's March 31, 2008, cover -- a record broken only by the Jolie-Pitt twins. "The buzz factor is big on these things," said Bragman. "If you want to stay No. 1 in the category, you cough up the big bucks. And for a star like Jennifer Lopez, the expectations are high. It might not make financial sense to us, but to the magazines, it's more about the long-term results. It's bragging rights and it's upping your advertising rates."
Tori Spelling and Dean McDermott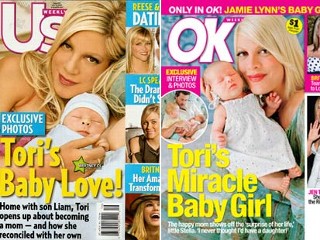 Spelling and her actor husband, Dean McDermott, showed off son Liam on the April 16, 2007, cover of Us Weekly. Just over a year later, daughter Stella Doreen made her debut on the cover of the June 26, 2008, issue of OK! Why'd Spelling switch allegiances? "Each magazine has its own vibe," said Bragman. "People is obviously the 10,000-pound gorilla, while Us is a bit younger and hipper. But if you want a more international audience, you go with OK!" Still, he noted, "the victor is usually the magazine with the deepest pockets when it comes to that particular celeb."
Clay Aiken
When "American Idol" star Clay Aiken introduced the world to his son Parker (mom is Clay's record producer pal Jaymes Foster) to the world on People magazine's Oct.1, 2008, cover, he also gave the magazine a major scoop, announcing he is gay. Parker's garnered a reported $500,000, "but it was really the big news that sold that story," said Bragman. "I don't think the baby would have gotten half-a-million otherwise."
Jessica Alba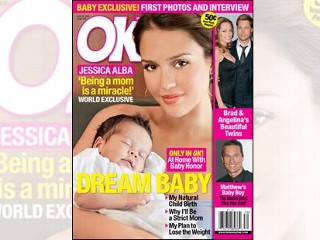 Jessica Alba and her producer husband Cash Warren reportedly held out for weeks after receiving offers from several celebrity magazines. But a month after she was born, Alba's baby joy, Honor Marie Warren, graced the July 17, 2008, cover of OK! magazine, taking in a reported $1.5 million.
Matthew McCanaughey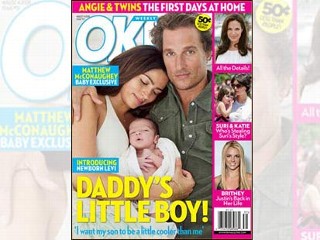 No holdouts here. Matthew McCanaughey was "stoked" about the birth of his little surfer dude (mom is model Camilla Alves), but the perpetual bachelor seemed even more eager to share little Levi's first pictures with the world. Proud papa McConaughey brokered a $3 million deal to show off his son in OK! magazine's July 24, 2008, issue just days after the baby's birth. The agreement reportedly also grants the magazine first rights to wedding photos, should McConaughey and Alves tie the knot.
Jamie-Lynn Spears
blog comments powered by

Feng Li/Getty Images

Courtesy Eric Foerstner

Bloomberg via Getty Images

Courtesy John Arway

Mark J. Terrill/AP Photo

Pedro Ladeira/Barcroft Media /Landov