Elin Nordegren is today doing exactly what she has done every day since her husband drove a car into a tree five months ago and nearly ruined everything: staying out of it.
Tiger Woods has returned to public life, teeing off at the Masters Golf Tournament Thursday, after a weeklong public relations blitz that included a news conference Monday and voice cameo by his deceased father in a Nike ad Wednesday.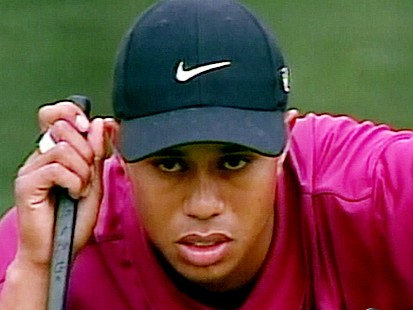 But as her husband returned to the spotlight, Nordegren has remained, as always, in the shadows.
She has not made a single public statement since Wood's sex scandal broke in November. Her actions -- driving the kids to school, purchasing a secluded Swedish mansion and wearing a shirt with a Nike swoosh -- have been parsed and divined by the media for any sort of sign of fidelity or independence.
In a world of jilted celebrity spouses, where bright lines are drawn between those who stand by their men, a la Hillary Clinton, and those who walk out without looking back, like Jenny Sanford, Noredegren has charted -- as a newly Buddhist Woods might say -- a middle path.
She is just staying out of it.
The tabloids, which have swung back and forth on whether Nordegren would remain with Woods or divorce, are themselves split. TMZ says they are once again sharing a house together. OK! swears they are on the verge of divorce.
Not wanting to miss an opportunity, even the Associated Press this week tried to go high brow, looking at the divorce rates among Swedish women.
But despite all the chatter, Nordegren, 30, has done little to indicate what she is planning.
At his first public statement from PGA headquarters in Florida in February, Woods made a point to apologize and mention Nordegren numerous times in the brief statement he made to reporters.
"Elin and I have started the process of discussing the damage caused by my behavior," Woods said. "As Elin pointed out to me, my real apology to her will not come in the form of words; it will come from my behavior over time. We have a lot to discuss; however, what we say to each other will remain between the two of us."
Woods Has Had Little to Say About His Wife
But when taking questions from reporters Monday, Woods, 34, barely mentioned his wife, saying only that she would not attend the Masters, leading some observers to assume the couple was destined for divorce.
" I mean, I still think he's a little slippery. I mean he's much softer than he used to be, a little more chin hair. He -- he didn't say anything about his wife, Elin. You know, he didn't say I really miss her. I can't wait to get back with her, I'm trying to save my marriage," ESPN's Rick Reilly told Larry King on April 5.
"And it kind of makes me wonder, Larry, if it's over," he said.
Nordegren, a statuesque former swimsuit model who left the fashion world to study child psychology, has given no public interviews since marrying Woods in 2004 and tried to shield her children from the ever-present paparazzi.
She was introduced to Woods in 2001 while working as an au pair for Swedish golfer Jesper Parnevik, who, in the first days of the scandal, publicly upbraided Woods and said he regretted introducing the couple.
Photographer Bingo Rimer told Sports Illustrated in 2004 that Nordegren "didn't want to be just a celebrity girlfriend. ... She didn't want to be seen just as a decoration on Tiger's arm."
But Tiger continued to pursue her, reportedly paging her six times a day. Once he won Nordegren over, he proposed to her on an African safari. The two married Oct. 5, 2004, in a lavish, star-studded $2 million wedding in Barbados.
"I have found a life partner, a best friend," Woods told "60 Minutes" in 2006. "You know, Elin's been incredible for me. She's brought joy and balance in my life. We love doing the same things. You think I'm competitive? She's way more competitive than me."