A porn star and a pancake house waitress added their names to an ever-increasing list of women who have come forward or been called out for reportedly having affairs with golf superstar Tiger Woods, bringing the tally to at least nine.
Tabloids over the weekend named porn star Holly Sampson and pancake waitress Mindy Lawton as two of the names on Tiger's steamy scorecard, raising the question of how Woods would have been able to keep so many affairs secret for so long.
Sampson, 36, is a busty blonde and Los Angeles resident. The star of the films "OMG, Stop Tickling Me" and "Flying Solo 2" has not denied an extramarital affair with the golfer, whose squeaky clean reputation has been tarnished since a bizarre early morning car accident two weeks ago raised questions about the stability of his marriage and was followed by a slew of allegations about alleged affairs.
Denver-based lawyer Andy Contigulgia, representing Sampson, has declined to comment and did not return calls from ABC News.com.
Most of the women linked to Woods are models or work at some of the country's swankiest nightclubs, but Lawton, 33, who disclosed her alleged relationship to Britain's News of the World, worked for $8 an hour at a Perkins restaurant in Orlando.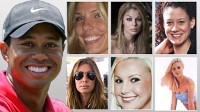 ABC News Photo Illustration
"Sometimes I looked like a rag doll after we'd made love," she told the paper. "He really did like it quite rough. He wanted to spank me and loved pulling my hair as we had sex. He also liked me to talk dirty to him, but hair-pulling was what really turned him on.
For one year, beginning in 2006, Lawton said she and Woods regularly saw each for sex, partying at Orlando's Blue Martini club and having sex in the golfer's home and in his car parked in a church parking lot.
One of those backseat trysts was reportedly caught on film by photographers working for the National Enquirer in 2007. The story was quashed and the affair covered up when Woods agreed to appear on the cover of Men's Fitness, a title also owned by American media, in a quid pro quo with the publishing company, according to U.K.'s Mirror tabloid.
"He had such a big sex drive and wanted it fulfilled," Lawton told News of the World.
"I guess I was giving him what his wife wasn't. Tiger is so used to getting his way. What Tiger wants, Tiger gets," she said.
Lawton said she stopped hearing from Woods two years ago when his wife Elin Nordegren gave birth to the couple's first child, a daughter named Sam.
Calls to Lawton by ABC News.com were not immediately returned.
Blonde bombshell Cori Rist, a 31-year-old Manhattan clubgoer, and Jamie Jungers, 26, a lingerie model were both named by tabloids over the weekend as also engaging in affairs with the golfer.
According to the New York Daily News, Rist met Woods at New York City hotspot Butter last year and have continued an affair since. She has a 7-year-old son.
Jungers, 26, who has modeled for the lingerie line Trashy Girls, reportedly met Woods just months after his wedding when he invited her to join his VIP table at the Bellagio hotel in Las Vegas.
Jaimee Grubbs, a Las Vegas cocktail waitress, was also named by Britain's Mirror and is reportedly selling the story of her affair to a yet unnamed tabloid.
From there the couple spent the night at the MGM Grand Mansion hotel, kicking off a months-long affair, according to the Mirror.