"Good Morning America" is wishing Lauren Conley, from Manchester, Mich., a very happy birthday today.
Lauren, who is nine-years-old, loves to dance and play outside in the snow, her mother told "GMA."
Lauren lost her father two years ago in an accident at a Ford Motor Company assembly plant, but her mother says Lauren's giggles along with lots of love have helped her heal.
Please join us in wishing Lauren a very special birthday!
Feb. 22: Rosa Battle Turns 45
A retired nurse and mother of two from Conetoe, North Carolina, is a breast and lung cancer survivor who was told in 2005 that she would likely not live through the year.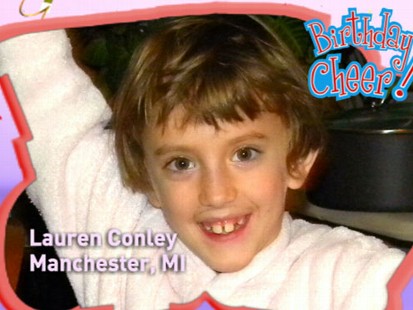 Five years later, Rosa says "Look at me now!"
Happy birthday from the "GMA" team, Rosa!
If you want to wish someone a happy birthday, CLICK HERE.
Feb. 16: Happy Birthday 6-Year-Old Will!
Will Gruender from Napoleon, Mo., turns 6-years-old today. His mother Karen wrote to "
Good Morning America
" to tell us about Will's first year in kindergarten and how he loves to help his younger autistic brother who is 4.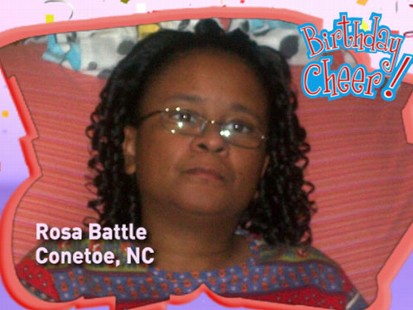 Karen Gruender also said that Will volunteers at Missouri Town 1855, an historic village near Blue Springs, Mo.
Join us in wishing Will a very happy birthday today!
Ernestine Baker Turns 60
Ernestine Baker from Ailey, Georgia, turns 60 today. Her daughter Sonya asked "
GMA
" to wish her mother a very happy birthday saying that "she does not look a day over 40!"
Feb: 15 Happy Birthday Catherine Coon
Catherine Coon of Jordan, Ark., turned 36 Monday.
Coon worked in the mortgage industry for 15 years, but when the housing market crashed she went back to school at Arkansas State University in Jonesboro to become a registered nurse.
Coon will graduate in December 2011 as an R.N. and with an associate's degree in science.
Join us in wishing her a very happy birthday.
Click here to return to the "Good Morning America" Web site.