Popular nighttime light listening radio host Delilah has compiled her favorite listener stories from the thousands of letters she receives weekly.
Read an excerpt of "Love Matters" below and check out more books in the the "GMA" library.
Love for Family and Friends
"In family life, love is the oil that eases friction, the cement that binds closer together and the music that brings harmony."
—Eva Evelyn Burrows, 13th General of the Salvation Army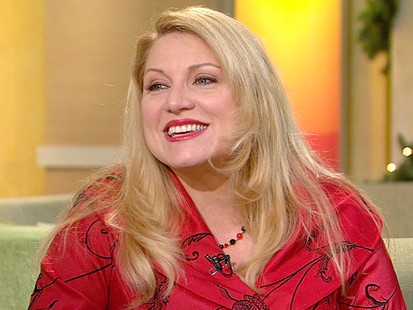 Family has been celebrated in numerous popular songs, e.g., the bouncy Sister Sledge anthem "We Are Family" and -- my personal favorite -- Carole King's "Child of Mine," and with reason, because the family is the foundation for all of our love relationships to come, good or bad. I believe if children have but one person in their world who loves them fiercely, they will survive. If they don't have the assurance that they matter from at least one adult, then they are broken for life. I was raised in a traditional "nuclear" family, the norm in our little town in Reedsport, Oregon. It wasn't until years after I left home that I discovered how "un-normal" our American concept of family -- a mother, father, two kids and a dog -- is in many other cultures. Elsewhere in the world families live in dwellings with multiple generations, extended family members and even, in some cultures, multiple wives. My children have never experienced a "normal" family atmosphere, with a mother and father and full siblings. But they have known that they have a mother who loves them fiercely, and they know that I will love them unconditionally all the days of their lives.
As a child, I learned to love from the best, my mom, Wilma. Whatever her shortcomings, she believed in all four of her children and made sure we believed in ourselves. Her encouragement created in me a solid core of self-confidence that has been invaluable to me in my career as a radio host. Mom was a big woman -- she stood over six feet tall, and her arm span was that of a giant. And, oh, when she wrapped you in those strong arms, you knew you were loved!!
Wilma showed her love in a million different ways -- one was that she baked treats for her family. How we loved her cookies! Chocolate chip for the boys, oatmeal raisin for me and Dad, sugar cookies and applesauce with spice during the holidays. My parents both died within a few years of each other, each at the age of fifty-seven, and among the houseful of "stuff" that my siblings and I were left to sell or donate was a cookie jar. That cookie jar sat in Mom's kitchen for forty years and was rarely empty. Years later I walked into a thrift store and saw an identical cookie jar and started to cry, so I bought it and took it home. Not because I needed a new cookie jar, but because that ceramic jar reminded me of the hot cookies my mom would bake for us every week and the way she would ask, "Sis, you want to help me bake cookies?" This question was really an invitation to stand in our tiny kitchen and spend time laughing and talking to Mom about my friends, my homework, my latest crush, my future dreams. As we made cookies together, my mom and I bonded in love.
I also learned a lot about love from my father. It is only now, as my own children are growing at the speed of light, that his lessons are resounding in my heart. He was a stoic man, not one to hug and kiss and gush like Mom, but he showed his love through his steadfast commitment to his family. When the toaster broke, he would stay up all night to repair it, so we could have toast with our eggs in the morning. When the holidays rolled around, he disappeared into the garage, his makeshift Santa's workshop, to build toys and wooden objects for everyone in our neighborhood.
Although our parents give us our first lessons in love, perhaps our best teachers about love are our kids. The greatest joy of love in my life has been in giving birth to three wonderful children and adopting seven more. When I held my firstborn, Isaiah, I knew that my life would never be the same. For the rest of my natural life, my heart would be walking around outside my body, in the form of my child. I learned more about love from Isaiah in the first few hours of his life than I had learned in the twenty-four years of my life prior to nursing him to my breast. For eight years Isaiah and I were alone, just the two of us, going camping and dirt biking, moving from state to state and exploring every patch of beauty along the way.
All of my kids are special, and all are very different. I stand in amazement when I ponder my three biological children, how they could have emerged from the same womb and all be so completely different from one another. My firstborn, Isaiah, was never once sent to the principal's office during all his years in school. He was never in a fight...he never talked back to a teacher...he obeyed all the rules, and would get so frustrated with me when I would break all the rules. My lastborn, Zachariah, gets a note sent home from school every day. His talking back has been elevated to an art form. He doesn't own a pair of jeans for twenty-four hours before the knees are ripped. As Isaiah taught me about God's quiet and gentle love, Zachariah has taught me that God has a wicked sense of humor!
Lonika is my oldest daughter, and although I did not give birth to her or raise her (she was adopted as an adult), she is the daughter of my heart. A single mother, Lonika works hard every day to provide for her daughter, Jayla. Lonni has a great sense of humor, and when she sets her mind to accomplish something, she does not give up. She is determined, focused and very gracious.
Shaylah has a tender, sweet heart. Like my firstborn, my secondborn was also graced with a very gentle spirit. She is not a rough-and-tumble sort of girl the way I was. She moves with grace and is always a peacemaker, not a troublemaker like her momma!
Emanuel, Tanginique and Trey Jerome are siblings -- all born to the same mother but with different fathers -- whom I adopted out of our very broken foster care system. Tragically, they were even more abused by foster care givers than they were by their drug-addicted mother. Because of all the upheaval and abuse in their lives before they came, in their early teens, under my care, Manny, Tangi and Trey Jerome have attachment issues, and they all left my home less than five years after I adopted them. All three have beautiful smiles, outgoing personalities and strong wills to survive. The youngest of the three, TJ, works for me now and lives close by with his girlfriend and his infant son. When TJ found out Abbi was pregnant, he was only eighteen. I'm so proud of the way he stepped up to the plate and vowed he would be the father to his son that he never had, and of the way he parents his son. He is totally committed to his baby and to his fiancée and works hard every day to provide for his young family. When I see TJ holding Nehemiah, and talking to him with such deep love, I know the many trials and tribulations that I went through when Trey was a teenager have paid off. We are far closer today than when he came into my life at the age of nine, and I pray that one day his siblings will also decide to walk away from the trauma and poverty of their current life and walk back into the family that is waiting to welcome them.
My two youngest boys are Zacky and TK (Thomas Karlton). TK also became a part of my life through adoption. A woman who facilitates adoptions contacted me one day, wondering if I knew anyone who'd be interested in adopting a young African-American toddler whose fourteen-year-old mom felt overwhelmed. I asked her to send me photos and information, and I'd make inquiries. Less than a month later, two-year-old Thomas Karlton was a part of our family. It was an impulsive decision on my part, and the timing wasn't the best, as I was going through a divorce and Zacky had been diagnosed with mild autism and other special needs. But something about TK's wide, dark eyes melted my heart, and I couldn't bear the thought that he might have to go into foster care. TK is always eager to help and please others. He has a huge bright smile, and loves to play silly games, like crawling on his knees on the floor and pretending to be an alligator or a space monster, as he chases his younger sister and nephew.
And as I write this, I have just adopted two more children, daughters from Ghana, Africa, whom I've come to know on my mission trips there. At thirteen, Angel is a tiny slip of a girl, just six months younger than my mini-me, Shaylah, but she is over a foot shorter and weighs just 75 pounds. She has suffered malnutrition all her life, as well as malaria and other diseases. Blessing is only four. The day the adoption was final, I took the girls out to breakfast to celebrate. Angel and even little Blessing ate six eggs apiece! They had never seen a smorgasbord before, and could not stop returning for more boiled eggs.
It seems most of my adult life has been spent folding laundry and trying to come up with creative Halloween costumes made from paper bags and pipe cleaners, screeching "Get in your car seat!" and "Stop hitting your brother!" and driving carloads of kids on field trips. But each day my children teach me. About patience. About forgiveness. About life. About love.
What have you learned from your children? And equally important, what are they learning from you?
A friend is someone who knows the song in your heart and can sing it back to you when you have forgotten the words. --Unknown


After the family, the next stage in our education about love comes from friendship. Most of us can remember how proud we were as youngsters to have a "best friend." As adults, too, we cherish our friends -- those special people in our lives who are there for us at the best and worst of times, who add the icing to the cake of our successes and bring light to the darkness of our sorrows. Rock music has paid tribute to friendship in songs like Michael W. Smith's "Friends are Friends Forever," Bill Withers's "Lean on Me" and the theme song from the movie Toy Story, "You've Got a Friend in Me," by Randy Newman.
The joy of friendship has been abundantly mine. I have been blessed to know some pretty amazing people thus far in my life, and for whatever reason, God has allowed me to peer inside the soul of some His finest handiwork. Friendship is precious to me, and I am deeply thankful for my many wonderful experiences of this kind of love. My childhood friends Natasha, Dee Dee and Billy are still a big part of my life today. Dee Dee and I share so many memories of past stages in our lives, and often reminisce and laugh about our days in disco dresses and halter tops, and the guys we were trying to attract (and sometimes did, with mixed results) by wearing them. Janey, my producer, is a friend who is closer than a sister. We were roommates for many years, she was my birthing coach for my last two biological children and we've worked together for the past eighteen years. I know if I needed a new lung, Janey would be the first to try and donate hers. And because of the strength of the love my girlfriends share with me, each week, on the air, I bond with my "Friday nite girls."
As you read about the friendships here, think about your own "friends of the heart," and the difference they've made and continue to make in your life. You may find yourself agreeing with Ralph Waldo Emerson, who said, "A friend may well be reckoned the masterpiece of nature."
"To Where You Are"
Dear Delilah,
I have been a professional Santa for over 30 years now. I could tell you many stories, but there's one I especially want to share.
A few years ago I was at one of the Ronald McDonald Houses for their family Christmas party the week before Christmas. After I visited with all the children there, a mother came up to me and quietly asked me if I had time to go and visit her daughter in the hospital. Ashley was six years old and too sick to leave the hospital to see Santa, but she wanted to tell him something special. I told the mother, "Let's go right now!"
As we approached Ashley's room, one of the nurses told me the little girl had advanced cancer, and that her doctors didn't expect her to make it to Christmas. This took my breath away, and I sent her mother in ahead of me. Then suddenly I burst through the door with my sleigh bells jingling, and in a big, booming voice, I said, "Ashley, I understand you want to talk to me!"
The child got up on her knees with tubes running in and out of her, and said, "Oh, yes, Santa!" She had lost all her hair, but she had the bluest eyes I've ever seen. I walked over and asked her if I could sit on her bed, then I pulled her over on my lap. We talked and sang Christmas carols, and she played with my sleigh bells. We visited and laughed for over an hour, until she fell asleep in my arms. I tried to quietly lay her down, but my bells rang, and her amazingly blue eyes popped open.
I said, "Oh, Ashley, I'm glad you woke up, I have something very important to ask you. What do you want for Christmas?"
She didn't have to think even a second. She said, "My sisters want Teletubbies!" I said, "I can do that, but what do you want?"
Again she didn't have to think, and said, "My brother wants a Nintendo!" And again I said, "I can do that! But what do you want?"
She thought for a couple minutes and then said quietly, "I'm going to die soon, I know that, and I'm going to go and live with Grandma and Grandpa and I'm not going to hurt anymore. What I want is for Mom to stop crying -- she is going to be here alone and needs to take care of my brother and sisters."
Speechless, I looked at this little angel. She could have asked for anything from Santa, and all she cared about was her family. I wrapped my arms around this beautiful little girl and planted a big kiss right on that cute little bald head. I told her, "Don't you worry, your mom is going to be just fine."
The mother had been doing some needlepoint, and I did something then that I had never done before and have never done since. I borrowed the mother's scissors, cut off one of my sleigh bells and gave it to Ashley. Then I wiped a tear from my eye, gave her mother a big parting hug, and asked her to keep me posted.
Christmas came and went, and I didn't hear anything. Then, two days after Christmas, I received the call that I really didn't want to get. Ashley had passed away that morning. I found out when and where the funeral was going to be. On the day, I dressed in my best suit and Santa tie and went to pay my respects. As I walked in, her mother saw me and came over. She told me that during Ashley's last week she had more energy and was happier than the entire six months since they found out she had cancer. Her one Christmas wish had come true -- a personal visit from Santa.
It was an open-casket funeral, and I took a last look at Ashley. She was wearing a beautiful white dress, and they had put a long blond wig on her. She looked like the angel she was, and then, as I looked closer, I noticed that in her hand was my sleigh bell. If you believe in angels, the most special angels are the Christmas angels, and I believe that Ashley is one of them. God bless you, Ashley, wherever you are, you've touched me in a way that no one else ever has.


In His Love,
Barry
Sidebar: Her one Christmas wish had come true -- a personal visit from Santa.


2. Al
"My Father's Eyes" Dear Delilah, Here's a story I'd like to share with you about a loving father -- really two loving fathers.
During the Vietnam War, Uncle Sam called me to duty, and I was sent to a dangerous area, heavily infiltrated by the Vietcong. One eventful night, we were told to dig in. It seems that a couple battalions of VC were just over the hill. Well, there were only about 150 of us, including the clerks and cooks and the captain's hooch-maid. The VC could come right through us without so much as a second thought.
The night was long, but the next morning all was calm. It seems that Charlie just went around us! A short time later, I got a letter from my sister, one sentence of which I remember vividly to this day -- "Dad prayed for you!"
Now I knew that my dad loved me and wanted me safe from all harm, but I never heard him pray in my whole life. I'm convinced he sensed my danger and said the prayer when he instinctively felt it was needed.
That was almost 40 years ago, but it seems like only 40 minutes. My dad has long gone to his eternal reward, no doubt thanking his Father in Heaven for answering his prayer. I pray for my son daily, as I'm sure most fathers do. Let's keep praying for our children. God is a great protector, and now you know why I said this is really a story about two loving fathers -- mine and the Father of us all. God Bless,
Al
Sidebar: Let's keep praying for our children.

3. Rick "Blue Eyes"
Hey, Delilah,
I've got a story about our family and the way God has loved and blessed us.
I have been married to my wife, Dawn, since May 29, 1993, and it's been a great journey so far. She always dreamed of having a little girl to dress up in pink and pass down her massive Barbie collection to, and began to dream of this daughter as soon as the first stick turned pink.
In April of 1995 we were blessed with a little boy whom we called Ben. Despite her Barbie dreams, my wife was as thrilled as I was with our healthy little boy -- it was just the first baby, after all.
Well, Delilah, 2.5 years later we were pregnant again, and we were sure this time God was going to give us a little girl -- one of each, right? Wrong! On February 14, 1998, we got our second son, Luke, who came at 33 weeks and spent three weeks in neonatal care.
Okay, now it's again 2.5 years later -- September 2000 -- and after much fear we made it through the full nine months -- and, yes, another son, Owen, was born. Of course we feel so happy having three healthy, blond-haired, blue-eyed boys, but there was just a brief "Not again" moment. Now we have two male dogs and a house full of males. Dawn has been a good sport about this and loves us to bits, as we do her. I used to make jokes, telling her I just never found the instructions on how to make a girl.
We believe there is a reason for everything, and Dawn and I decided to stop at three boys. We felt blessed to have such really good kids. Every time we passed all those adorable little girl clothes in the stores she would smile wistfully, but she never complained. She has two older brothers and no sisters, so she felt perhaps it was her destiny to care for boys and never have a daughter.
Well, five years passed, and one day my wife said, "You're 40 and I'm 34, and it looks like if I'm ever going to get a girl, the stork will have to drop one on my doorstep." A week later she got on an elevator at the clinic where she works and ran in to a lady she used to supervise in her previous position. When Dawn asked her former employee how she was doing, the lady said, "Not so good." She had found out over the weekend that her nineteen-year-old daughter was pregnant and unable to care for a baby. My wife responded sympathetically and then went on her way. But the next day this lady called Dawn at work and told her that the daughter was having a girl and was going to give the baby up for adoption. She knew we had only sons -- and maybe that Dawn had hoped for a little girl -- and wanted to know if we would be interested in adopting this baby. Dawn told her she'd have to talk to me before committing herself, and was smiling nervously when I picked her up that day. Well, I put her fears to rest by saying of course we would be interested. That was in October 2006.
We met the birth mother at a restaurant and sensed that something was bothering her. We tried to make her comfortable, and she told us the father of the baby was African-American and asked if that made a difference to us. My wife and I in perfect unison said, "So what?" My wife has brown eyes, whereas the boys and I all have blue eyes, and when we got in the car after our visit my wife said, "Well, I know I will finally get my brown-eyed girl!"
We then began a close relationship with the birth mother and her mom. We had agreed to an open adoption, so they came to visit our home on several occasions. On March 17th we were called to the hospital, and Mallorie was born to us as our St. Patty's little girl. We brought her home on the 19th ,and we are approaching her first birthday now. The thing that gets me laughing is that our beautiful little daughter has blue eyes after all! So Dawn got only half her wish -- but hey, she's not complaining.
This little girl has truly blessed our family and is loved by all who meet her. Her brothers have adjusted just fine, and she is attached to them as well. In the evening, I often work out in my garage, and I always listen to your stories on the radio there, so I thought maybe you would read our story. If this experience has taught me anything, it's that we cannot control the plans God has made for us. Timing is all His, and He's full of surprises. Please pick something to play that will tell my wife and kids I love them more than anything in this world, and no matter what, I will be here as long as the good Lord allows to make sure they know they are loved.


Thanks for listening.


Sincerely,
Rick
Sidebar: Every time we passed those adorable little girl clothes in the stores, Dawn smiled wistfully.


4. Tracie
"Angel"
Hi, Delilah,
You know how you always say, "Who's on your heart tonight"? Well, someone special is on my heart tonight, and I want to share the story with you.
I was born August 22, 1975, and on February 11, 1979, my mother was pronounced dead, due to medical malpractice. My baby sister was only nine days old. Of course, my whole family was devastated, especially my father. Faced with the terrifying prospect of raising four young children -- ages nine, three, two and a week and a half -- alone, my father had made the decision to split us up. We were each going to be raised by one of his siblings.
Except for the baby, we kids knew about the plan and were brokenhearted that we couldn't all stay together. But just when we thought all hope was gone, God sent us an angel. The day after my fifth birthday, my father married my mom's younger sister, and God gave us the best mother we could ever have had, outside of the one who gave birth to us.
Now that we're all adults, we've learned that our parents didn't marry for love of each other but for the love of us kids. There was no greater joy for us than to be able to stay with the family we knew and loved, without worrying about evil stepmothers or families where we would never feel like we truly belonged. And not only did we get a great mother out of the deal but an awesome sister as well!
This year my parents will be celebrating their 27th wedding anniversary and are more in love than they probably ever imagined they could be. My mother was only 24 when she took on the responsibility of raising five young children, and she sacrificed a lot. My dad worked full-time and was a pastor at our church. My mom gave up her job to be a stay-at-home mom. Not that she stayed at home much -- it was nonstop running between after-school activities, sports and Scouts with us five kids. I'm sure there were many days back then that Mom felt unappreciated, but that sure isn't the case now. There are no words for just how much we all love and appreciate her.
And she is so selfless, so giving, so empathetic. For example, this past Mother's Day we got together to celebrate her, and instead she showed up with permanent markers and Mylar balloons so we could write a message on the balloons to our late biological mother. Together we wrote the messages and released the balloons. It was a very special moment -- a gift from a very special mom.
Delilah, I just wanted to take the time to share my story of the love that I have for the woman I call Mom, whose love and support are constantly with me as I raise my own daughters. All best,
Tracie
Sidebar: Just when we thought all hope was gone, God sent us an angel.

5. David
"I'll Be Home for Christmas"

Greetings from the Mideast,
Delilah --
I've never written to you before, but I've listened to your show quite a bit back home. Currently I am stationed in Iraq and visit your Web site. I saw your appeal for holiday stories, and immediately began to reminisce about holidays past and what they meant to me. I share this not for recognition, but to reflect, as I write, about those times with family and friends that I hold dear to my heart.
We always had our Thanksgiving and Christmas gatherings at my grandparents' home back in Louisiana. And what a gathering it was! Every family member would arrive with a traditional holiday dish and/or gift, and it was always interesting to see what new friend they brought with them to share our celebration.
My brothers and I would immediately head to the backyard to play football while the older folks sipped coffee or eggnog or stayed busy in the kitchen preparing a feast. Even outside, we boys could smell the wonderful bouquet of roasted turkey, cornbread dressing, sweet potato casserole and, of course, Grandma's homemade pies. Apple, pecan, pumpkin, cherry, chocolate and lemon -- I think everyone had a different favorite, and she never left one out. My favorite was the apple pie.
Grandma always relished watching everyone enjoy her pies. But mostly she took joy in seeing the whole family assembled under one roof, at one table. Holidays were the only time that busy schedules could be put aside and gathering as a family made the priority, as Grandma thought it should be.
Unfortunately, over the past few years, our grandparents and parents have all passed away, and with them the family gatherings. My brothers have married and scattered, and I, too, moved away and am now engaged. I miss my family terribly, and those few precious times we spent with each other every year.
I've been fortunate, however, to find a soul mate whose family is much like mine was, a family that has adopted me as one of their own. They have those gatherings during the holidays and treasure them, just as my family used to treasure ours. The dishes may be different and the family memories ones I don't share; nevertheless, every year as I gather with my new family, I can still smell Grandma's pies baking in the oven. And then I know that all is well and that the family endures.
Thank you, Delilah, for allowing me to share my holiday story. I'm starting my third (and thankfully last) year here in Iraq, and I needed something to bring a smile to my face. I'm looking forward to three weeks' leave in December, so I can share Christmas and my 27th birthday with my fiancée and other loved ones. And also to remember those before them, who taught me so much about what the holidays mean and how truly special they can be.

Take care and may God bless! David