When you have a relationship with someone for a long time, letting go can be tough.
Finding the words, standing by your feelings, doing what you think is right -- the dumper has to search for corrects way to do it and the courage to follow through.
Luckily, Jodyne L. Speyer figured out the many, many ways to break it off with just about anyone, from your best friend to your hairdresser, and is sharing her dumping advice in her book "Dump 'Em."
Read an excerpt of the book below and then check out more excerpts at the "Good Morning America" Library.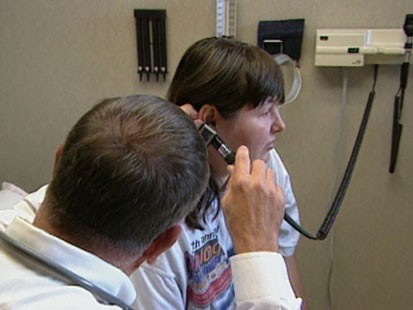 THE HAIRDRESSER
Signs It's Time to Dump Your Hairdresser
Your smock is covered in dandruff . . . and it's not yours.

With each snip of her scissors, she grunts like a female tennis player.

She's still stuck in the '80s. Who wants a perm?

When you walk in, her last appointment is leaving in tears.

You go in for a bang trim and leave missing an eyebrow.
024-39626_ch01_5P.indd 3 1/21/09 11:25:23 AM
Hair Today, Gone Tomorrow
While attending college in New York City, I got my hair cut at a trendy little boutique in the East Village. My hairdresser, Gina, was a plain Jane from Staten Island, and that was exactly what I liked about her. Unlike a lot of my previous hairstylists—who pretended to listen while they plotted to give me (usually successfully) the haircut they wanted—Gina actually listened to me and gave me the cut I asked for—which is why I was devastated when she told me that she was leaving for six months to go on a spirit ual journey to India.
Within days of returning from her trip, I made an appointment at her apartment. Graduation was coming up and I wanted a new look. I raced up her stairwell two steps at a time, excited for the hairstyle that would take me to the next stage of my life: my career.
As I reached the top of her staircase, I nearly choked on the heavy cloud of incense smoke that invaded my lungs. The smell of Nag Champa overwhelmed me. Waving it away, I pushed open Gina's front door and entered what I can only describe as some kind of medieval dungeon fi lled with giant candelabras, enormous crosses, leering gargoyles, and black sheets draped over huge gothic columns. I should have turned around and left then; the smell of incense makes me want to vomit (I already had, just a tiny bit). Not to mention that goth scares me. It was so dark that I could barely see my feet—and if I couldn't see, how would Gina be able to cut my hair?
"Hello?" I shouted. Out of the darkness came Gina, fully covered in piercings, hair in long dreads, and wearing a black, freefl owing, Stevie Nicks–style dress. Who was this woman? This was not my Gina from Staten Island—Coney Island, perhaps.
What exactly did they teach her in that ashram? She made her move toward me.
"Jodyne! My queen! At last! I've waited my whole life for you!" Then she broke into a Mary J. Blige song. "My life. My life. My life. In the sunshine. If you look at my life, and see what I've seen." India had apparently turned Gina into a hippie goth—a gippie?—but that still didn't explain why she was singing Mary J. Blige to me. "Let's go, mamma!" she said as she grabbed my hand and led me to her sink.
My whole plan of talking to her first, going over my hair—the style, the number of inches and layers—all of it washed right down that sink of hers. I completely shut down. To make matters worse, I also couldn't see, because I had made the mistake of wearing my glasses instead of my contacts that day. Gina had taken my glasses and set them on top of one of her scary gargoyles. I was having a total out- of- body experience. I watched her cut my hair, was engaged in conversation, yet I don't remember anything I said. What I do remember is her saying things like, "I totally get it. I so know what to do with you. Oh, I just love giving people new looks. You're gonna love it!"—and then another Mary J. Blige song. "Ohhhhh, sweet thing. Don't you know you're my everything. Woe oh, hooooh, sweet thing."
Fast- forward twenty minutes. My smock came off, and I was staring at myself in the mirror. All I could see was a blurry cloud of incense smoke. I frantically grabbed my glasses, almost knocking the gargoyle off the table (which I suspect was actually a coffi n). "Well, what do you think, rock goddess?" asked Gina. Staring back at me in the mirror was a complete stranger. I was speechless. I blinked my eyes fi ve times to make sure it was me. It was me alright; me wearing a mullet. That's right, a mullet—I couldn't get away from that mirror fast enough.
I ran down Prince Street at lightning speed, pushing people out of my way in order to get home as quickly as possible. It's a bird, it's a plane, it's—a mullet? As I sprinted past a crowd of people planted in front of Dean and Deluca, someone shouted, "Hey, Joan Jett!" And I'm pretty sure I also heard someone say, "Look, it's Andrew Ridgeley!" For those who don't know Andrew Ridgeley, he was one- half of the musical group Wham, along with George Michael. He also sported a mullet.
For the next week, I refused to go outside. I covered all the mirrors in my apartment and sat shiva. My friends stopped by and offered their condolences. They suggested that I go back to Gina to have her fi x my hair before graduation. But how could I?
That woman was not my Gina; something had happened to her in India. I called my parents and told them not to come to graduation. That phone call didn't go so well. My father pointed out that when parents fund their children's ridiculously expensive educations, it automatically gives them the right to attend their graduation ceremonies. They were coming, like it or not.
The day of graduation, Gina left a message on my cell, wishing me luck and hoping to hear how I liked the new me. I never called her back. More calls followed. I erased each message unheard.
Apparently, the new me was a coward. My graduation was saved by my fashionable mother, who brought with her an assortment of scarves left over from her '70s Rhoda days. I had never been a scarf girl, but these were really something: all vintage, all fabulous. Luckily, the scarf was a huge hit at graduation. People not only asked where I had bought it, but wanted to take a picture of me. For the next six months, which was as long as it took for me to grow out my hair, I was a fashion icon of downtown New York. And Gina? I never saw her again, but I think of her every time I hear a Mary J. Blige song or see someone with a mullet.
What I Learned
I should have called Gina back, or at least picked up the phone when she called. It certainly would have made me feel better— after all these years, I still feel guilty about the way I treated her. She went out of her way for me that day and I bolted, out of her apartment and out of her life forever. There was talk about meeting for a drink so I could hear about her trip, but my childish behavior put an end to that.
One of the most valuable things I learned while writing this chapter is how important it is to be prepared before going to your hairdresser, especially if you're going to a new one. From cutting out pages from magazines to bringing in personal photographs of the hairstyle you want, it's up to you to communicate what you want to your hairdresser. I spoke to a woman in Manhattan who stops women on the street and asks them if she can take a picture of their haircut to show her hairdresser. Remember, your idea of what a person's haircut looks like might be totally different than your hairdresser's. Thinking back to Gina, I went to her apartment with nothing in hand. I put all the power in her hands to change my look just days before graduation. That was my mistake.
While it's important to listen to your hairdresser's suggestions about haircuts, at the end of the day, you're the one wearing the 'do—so speak up! Tell your hairdresser what kind of person you are: chill, high maintenance, conservative, liberal, rocker? Don't leave her guessing. A number of people I spoke to for this chapter confessed to being bullied by their stylists and ended up getting cuts that they hated. When I asked them whether they said anything to their hairdressers, very few said that they had. The reason?
They were afraid to hurt their hairdressers' feelings. But you're paying for the haircut you want, not the haircut she wants you to have. Others said that it took them months to book the appointment with the new and hot stylist, so they didn't want to insult her. The best piece of advice I got while researching this chapter was how many salons offer free consultations. This is a great way of fi guring out whether or not you like a potential hairdresser. Pay attention to whether or not she pays attention to you. Make sure she asks you the right questions, and be sure to tell her as much as you can about you and your hair. If you don't like the vibe, don't make an appointment—or be prepared to walk out with a mullet.
Laying the Groundwork
Make sure you have realistic expectations of what your hair can and cannot do. If you don't know, ask your hairdresser.
Start emotionally disengaging from your current hairdresser. Your goal is to slowly shift your relationship to a less personal, more professional one so that dumping her will be easier.
Give your hairdresser a warning. Point out what you don't like about your hair. Be specifi c: Do you hate the length? Troubled by the color? Lost in the layers? Tell her.
Find a new hairstylist. Stop people on the street who have hairstyles you like. Pick up beauty and hair magazines, such as Allure or Celebrity Hairstyles. If you need help, check out www.StylistMatch.com. The Web site has a search engine that fi nds hairdressers in your area who specialize in your hair type. When possible, they also provide you with pictures of local salons.
Call salons around town and take advantage of free consultations.
Rehearse what you're going to say to your current hairdresser.
How to Dump 'Em
Tip: For those of you who've become friends with your hairdresser, don't dump her by not showing up again. It may seem like the least confrontational route, but can easily lead to a highly charged run- in when you least expect it—at the market, the mall, your favorite restaurant, or the fragrance counter at Barneys. This happened to me with my old hairdresser, who was totally unpredictable with her cuts. There I was, alone and vulnerable, just wanting a new scent, when she cornered me and demanded that I tell her why I stopped going to her. She felt totally abandoned by me and was afraid that she had done something wrong. I was completely caught off guard and stuttered my way out of it, but I was so distraught that I ended up avoiding Barneys for a year. If you're not ready to speak honestly with your hairdresser, at the very least make up a white lie so that she doesn't feel abandoned.
Talk to the Hair (Stylist)
People—especially women—spend a great deal of time at the hair salon. A cut and color can easily take three hours. High- end hairstylists cater to their clients by offering them espresso drinks, wine, champagne, croissants, etc. It feels good to be taken care of by someone who wants nothing more than to make you look your very best. I've felt intoxicated upon leaving a salon; that could have been the alcohol, but still. To have a pair of professional hands work their magic and transform us into our most glamorous selves is pretty great. But all hairdressers go through rough patches, and some of them let their personal lives affect their work. If you've already laid the groundwork, you've been working on disengaging from your hairdresser. Remember, dumping her is business, not personal.
STEPS
1. Stop by or call your hairdresser.
2. Acknowledge your discomfort: "This is an awkward conversation to have."
3. Identify the issues you've been having with your cuts. "As you know I haven't been wild about ______ these past few months."
4. Dump her. "We've tried a number of things to make this work, but I'm still not getting the results I was hoping for. This is diffi cult to say, but it's time for me to check out another hairdresser."
5. Allow your hairdresser to respond. Some might let their egos come into play (not your problem!)—others might ask for another chance. Think twice. If you decide to give her one more shot, make it clear that you mean one more haircut, period. The best- case scenario is that your hairdresser will support your decision. You might be surprised by how many hairstylists will be okay with you leaving. Most genuinely want you to be happy.
6. Thank her for everything.
Musical Saloon Chairs
Many of the people I interviewed for this chapter had questions about how to handle the awkwardness involved when someone wants to see another hairstylist at the same salon. I spoke with a number of professionals, and most agreed that the way to handle it is to make your fi rst appointment on your current hairdresser's day off. When you sit at the new hairdresser's chair, speak up and let her know that this is a trial appointment.
If the new haircut is a success, leave a note for your old hairdresser at her station saying, "Stopped in and had my hair done with _____. Thanks for everything but I've decided to make the change to her." Then the next time you see your old hairdresser, make a point of going over and acknowledging her. It doesn't have to be much, just a quick wave hello. The one second of awkwardness will pass quickly, making for a much easier transition to the new stylist, and before you know it, the discomfort will disappear.
1- 800- FLOWERS.COM
Still not sure how to dump your hairdresser? Send her flowers.
What you can write:
Dear ______, Thank you for all your wonderful haircuts throughout the years. I've decided to take my hair in a new direction. Sincerely, ______________
The Gift That Keeps on Giving
Still looking for an easy way out? Dump your hairdresser by telling her that you were given a very generous gift certificate to another salon. Mention a big promotion at work, a milestone birthday, or a wedding anniversary.
Bonus: This option allows you to keep the salon door open should you wish to return in the future.
Locks of Love
Guess who's growing their hair out? You are! Tell your hairdresser that you've committed to donating your hair to Locks of Love, a nonprofit organization that gives hairpieces to disadvantaged children under the age of eigh teen who are suffering from medical hair loss. The minimum hair length it accepts is ten inches. Another option is to mention how much you love, love, love Rapunzel's or Fabio's hair, and wish you had long hair. Tell her that you've made the decision to just go for it—grow it out once and for all. If she offers to trim it for you, let her know that her prices are too high for what you need right now. She shouldn't expect to see you for years.
Lice, Lice, Lice, Yeah
Tell your hairdresser that you've picked up a bad case of head lice and had to shave your hair off. The good news is that you actually like it and are trying to decide whether to keep it that short or grow it out; either way, you won't be seeing her for a while.