Emeril's Blueberry-Raspberry Muffins With Streusel Topping
A Crumbly Breakfast Creation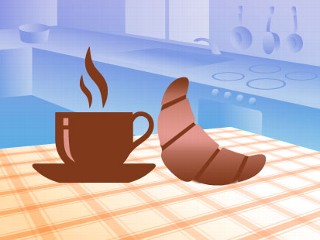 From the kitchen of Emeril Lagasse
|
Emeril prepared delicious fruity breakfast treats on GMA, including these muffins with streusel topping. Recipe courtesy of Emeril Lagasse's "Emeril's Food of Love Productions."
Ingredients
Topping
1/4 cup all-purpose flour
2 tablespoons butter, softened
3 tablespoons sugar
2 tablespoons walnuts (finely chopped)
1 teaspoon lemon peel, finely grated
Muffins
2 cups all-purpose flour
2/3 cup sugar
2 teaspoons baking powder
1/2 teaspoon baking soda
1/2 teaspoon salt
1/4 teaspoon ground cinnamon
2 large eggs
1 stick unsalted butter, melted
1 cup buttermilk
1 tablespoon grated lemon zest
3/4 cup blueberries, fresh
3/4 cup raspberries, fresh
Cooking Directions
Preheat the oven to 400 degrees F. Line a standard 12-cup muffin tin with paper liners.
To make the topping, in a medium bowl, mix together the topping ingredients until crumbly. Set aside.
In a bowl, whisk together the flour, sugar, baking powder, baking soda, salt, and cinnamon.
In a large bowl, beat the eggs with the melted butter. Add the buttermilk and lemon zest and whisk to combine. Add the dry ingredients to the wet and stir just to combine. (Batter will still be somewhat lumpy; do not overmix.) Gently fold in the blueberries and raspberries so the berries do not break open and pour into the prepared muffin tin. Crumble the streusel topping over the muffins and bake until golden brown and a toothpick inserted into the center comes out clean, about 20 minutes.
Let cool in the tins for 10 minutes, then remove and cool on wire racks.
Yield: 1 dozen
Other Recipes That You Might Like