Emeril's Creole Breakfast Bread Pudding
Emeril Lagasse Makes Breakfast in Bed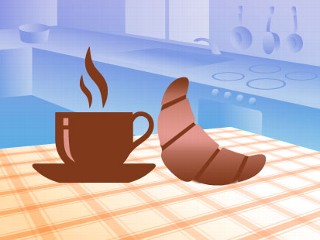 From the kitchen of Emeril Lagasse
|
To launch his Breakfast in Bed contest, Emeril Lagasse got warmed up with a New Orleans-inspired breakfast recipe. Get out your skillet for Creole Breakfast Bread Pudding.
Ingredients
1/2 pound Linguisa sausage, removed from casings and chopped
1/2 cup yellow onions, minced
1/4 cup green bell peppers, minced
1/3 cup green onions, sliced
1/3 cup dry white wine
1/4 cup unsalted butter, melted
8 cups day-old French bread, torn into 1-inch pieces
2 1/2 cups milk
1/2 cup heavy cream
8 large eggs, beaten
8 ounces Pepper Jack Cheese, grated
8 ounces Monterey Jack Cheese, grated
3/4 teaspoon salt
1/8 teaspoon freshly ground black pepper
1/8 teaspoon cayenne
3/4 cup sour cream
1/2 cup Parmesan cheese (grated)
Cooking Directions
Preheat the oven to 325 F.
In a large skillet or sauté pan, cook the sausage over medium-high heat until golden brown and the fat is rendered, about 5 minutes.
Add the onions and bell peppers, and sauté until soft, 3 minutes. Add the green onions and stir well. Add the white wine and bring to a boil. Cook, stirring, until reduced slightly, about 1 minute. Remove from the heat and let cool.
Place the bread in a large mixing bowl. Add the milk and cream and stir well. Let sit for 5 minutes.
Pour the melted butter into a 10- by 13-inch casserole dish, and tilt to coat the sides and bottom evenly. Pour any extra butter into the bread mixture.
Add the sausage mixture to the bread mixture. Add the eggs, grated cheeses, salt, black pepper and cayenne, and quickly fold together.
Pour into the prepared baking dish, cover with aluminum foil and bake for 1 hour. Uncover and bake for 15 minutes.
Remove from the oven and increase the temperature to 375°F.
Spread the sour cream evenly over the top and cover with the grated Parmesan cheese. Bake uncovered until lightly browned on top and set, 10 to 15 minutes.
Remove from the oven and let sit for 5 minutes. Cut into wedges and serve hot.
Other Recipes That You Might Like