Emeril's Lemon Scented Blueberry Pancakes
Don't Just Eat Ordinary Flapjacks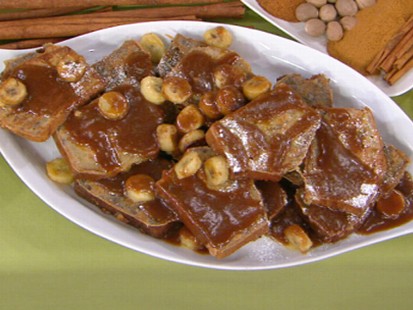 Emeril prepares the Banana Bread French Toast that he made for one special mom.
From the kitchen of Emeril Lagasse
|
Ingredients
1 cup fresh blueberries, picked over for stems
1 cup all-purpose flour
1 tablespoon corn flour or finely ground cornmeal
2 tablespoons sugar
3/4 teaspoon baking powder
1/2 teaspoon salt
1/4 teaspoon baking soda
3/4 cup buttermilk
6 tablespoons whole milk
4 tablespoons (1/2 stick) unsalted butter, melted, plus more butter for cooking and serving
1 egg, lightly whisked
1/2 teaspoon finely grated lemon zest
1/2 teaspoon vanilla extract
Maple syrup, for serving
Cooking Directions
Combine the blueberries and 2 teaspoons of the flour in a small bowl, and toss to coat well. Set aside.
Place the remaining flour and the corn flour, sugar, baking powder, salt, and baking soda in a medium mixing bowl, and whisk to combine.
Combine the buttermilk and milk in a separate mixing bowl. In a small bowl, whisk the melted butter and egg until well combined; then stir the egg mixture into the buttermilk mixture. Add the lemon zest and vanilla, and stir well. Add the wet ingredients to the dry ingredients, and stir until just combined; do not overmix. Gently fold the blueberries into the batter, and set it aside to rest while the skillet is heating.
Place a nonstick skillet over medium heat. When a drop of water dances across the surface, it is ready. Add a small pat of butter to the skillet, and then add about 1/3 cup batter for each pancake, fitting in as many as you can while leaving enough room to turn the pancakes. Cook until they are bubbly around the edges and the top surface is beginning to look slightly dry, 2 to 3 minutes.
Turn them over and continue to cook until the pancakes are golden on the bottom and just cooked through, 1 to 2 minutes. Place on a warm plate and cover lightly with aluminum foil while you cook the remaining pancakes.
Serve the pancakes hot, with butter and maple syrup.
About 10 pancakes, 4 servings
This recipe was styled by chef Karen Pickus for Good Morning America.
Recipe courtesy Emeril Lagasse, from "Farm to Fork: Cooking Local, Cooking Fresh," HarperStudio Publisher, New York, 2010, courtesy MSLO, Inc.
Other Recipes That You Might Like