Emeril's Whole Lotta Nuts Granola
Make Mother's Day Memorable With These Homemade Breakfast Treats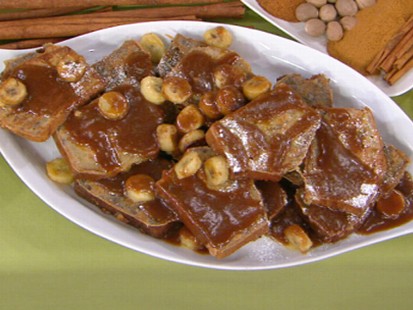 Emeril prepares the Banana Bread French Toast that he made for one special mom.
From the kitchen of Emeril Lagasse
|
One especially deserving mother got the surprise of her life when Emeril came a-knocking on her door this morning to treat her to breakfast in bed ? but she doesn't have to be the only one!
With Emeril's delicious recipes, you can make the special mother in your life her own breakfast in bed.
In anticipation of the big day, Emeril gave tips and recipes on how to make scrumptious breakfast foods.
Recipe courtesy Emeril Lagasse, Emeril's Food of Love Productions, 2008
Ingredients
3 cups old-fashioned rolled oats
1/2 cup slivered almonds
1/2 cup unsweetened flaked coconut
1/4 cup hulled green pumpkin seeds
1/4 cup sunflower seeds or pine nuts
1/2 cup crushed pecans or walnuts
1/2 teaspoon cinnamon
1/2 teaspoon salt
4 tablespoons unsalted butter
1/3 cup honey
1/2 teaspoon vanilla extract
1/2 cup raisins or chopped dates
1/2 cup dried cranberries or blueberries (or combination)
Cooking Directions
In a large bowl stir together oats, almonds, coconut, pumpkin seeds, sunflower seeds, pecans, cinnamon and salt. In a small saucepan melt butter with honey over low heat, stirring. Add vanilla and pour butter mixture over oat mixture and stir until combined well.
On a large baking sheet, spread the granola evenly in a thin layer. Bake, stirring every 5 minutes to keep from sticking or burning, until golden brown and crisp, about 20 minutes. (Do not overcook; the granola will crisp more when cooled.) Cool the granola on the pan on top of the stove and stir in dried fruits. Granola may be kept in an airtight container at room temperature for up to one week.
Serve at room temperature in a bowl with milk, or as a snack.
Yield: About 6 cups
Other Recipes That You Might Like