Home
>
GMA
>
Recipes Home
>
'Hungry Girl' Lisa Lillien's 200 Calorie or Less Big Fat Blueberry Muffin
'Hungry Girl' Lisa Lillien's 200 Calorie or Less Big Fat Blueberry Muffin
From the Book 'Hungry Girl: 200 Under 200'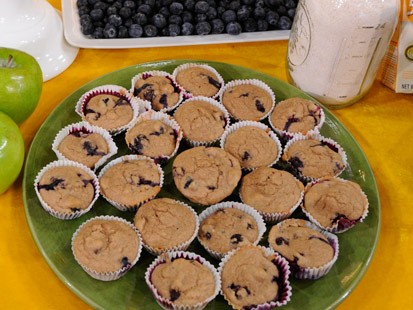 From the kitchen of "Hungry Girl"
|
Ingredients
1 cup whole wheat flour
1 cup fresh blueberries
1 cup light vanilla soymilk
1/4 cup sugar-free pancake syrup
1/4 cup fat-free liquid egg substitute
1/4 cup Splenda No Calorie Sweetener (granulated)
3 tablespoons brown sugar (not packed)
2 tablespoons light whipped butter or light buttery spread, room temperature
2 tablespoons no-sugar-added applesauce (get Mott's Blueberry Delight if you can find it!)
1 1/2 teaspoons baking powder
1/2 teaspoon vanilla extract
1/4 teaspoon salt
Cooking Directions
Preheat oven to 400 degrees.
In a medium mixing bowl, combine flour, Splenda, brown sugar, baking powder, and salt, stirring until mixed well.
In a large mixing bowl, combine soymilk, syrup, egg substitute, butter, applesauce, and vanilla extract. Using an electric mixer or a whisk, mix until thoroughly blended.
Do not worry if butter bits do not break up completely.
Add dry ingredients to wet ingredients in large mixing bowl and mix until completely blended. Then fold in blueberries.
Line a 6-cup muffin pan (or half a 12-cup pan) with baking liners and/or spray with nonstick spray. Evenly distribute batter among the 6 cups.
Bake in the oven for about 22 minutes, until a toothpick inserted into the center of a muffin comes out clean. Enjoy!
Per serving (1 muffin): 137 calories, 2.25g fat, 269mg sodium, 26.5g carbs, 3g fiber, 7.5g sugars, 4g protein
Secret Ingredients
Secret ingredients -- no-sugar-added applesauce (Get Mott's Blueberry Delight if you can find it.), sugar-free pancake syrup, Splenda No Calorie Sweetener (granulated)
Other Recipes That You Might Like