Shrimp and Grits, Charleston Grill Style
South Carolina Chefs in a Down-Home Cookoff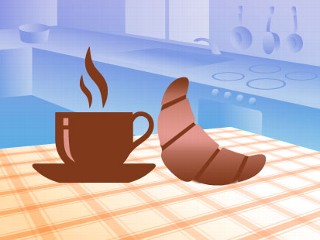 From the kitchen of Bob Waggoner
|
Good Morning America gave three of South Carolina's most celebrated chefs the chance to have a down-home cook-off.
GMA chose to offer the chef one mandatory secret ingredient: Shrimp. In addition to the shrimp, they all got to choose one of the following fruits: kiwi, pineapple or oranges.
Bob Waggoner made Charleston Grill Style Shrimp and Grits. You can try his recipe in your own kitchen.
Ingredients
Shrimp
8 shrimp, peeled and de-veined
1 tsp. garlic, chopped
2 tsp. shallots, chopped
1 yellow tomato, peeled, seeded and diced
1 tbsp. olive oil
1 tbsp. Opal basil, chopped fine
1/2-cup dry white wine
1/4 cup heavy cream
Salt and fresh ground white pepper, to taste
Grits
2 1/2 tbsp. unsalted butter
2 1/4 cups chicken stock
1/2 cup Charleston Grill stone ground grits
1 to 2 cups heavy cream
Salt and fresh cracked white pepper, to taste
1 Tsp. fresh lemon zest, chopped fine
Cooking Directions
Shrimp
Salt and pepper the shrimp on each side. In a large pan, heat the olive oil and then add the shrimp. Cook for one minute on each side and remove from the pan.
Add the garlic and shallots and cook for another 30 seconds. Add the tomatoes and the white wine. Reduce the wine by half and add the cream. Reduce to a sauce consistency.
Return the shrimp to the sauce and add the Opal basil. Salt and pepper to taste and pour this over the hot grits.
Grits
Bring the chicken stock and butter to a boil in a thick-bottomed saucepan. Stir in the grits and return to a boil. Reduce the heat, allowing the grits to cook for another 15 minutes at a low boil, and until the grits are thick and have absorbed most of the chicken stock. Stir occasionally to keep the grits from sticking.
Add 1/2 cup of the heavy cream to the pot and reduce the heat, allowing the grits to cook slowly for another 10 minutes. As the liquid is absorbed, add more cream, cooking the grits until thick and full-bodied. Add salt and pepper to taste with a total cooking time of at least an hour.
Recipe courtesy of Chef Bob Waggoner of the Charleston Grill, in Charleston, S.C.
Other Recipes That You Might Like