Skillet Breakfast Bake
Enter Emeril's Breakfast in Bed Contest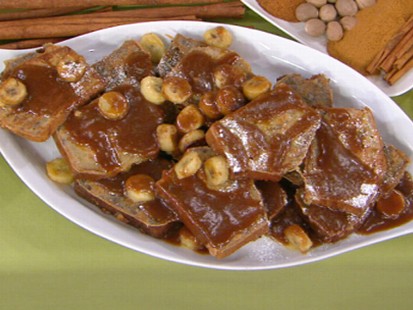 Emeril prepares the Banana Bread French Toast that he made for one special mom.
From the kitchen of Emeril Lagasse
|
Does your mom deserve breakfast in bed prepared by chef Emeril Lagasse? Then enter "Good Morning America's" Emeril's Mother's Day Breakfast in Bed contest.
Ingredients
3 cups half and half
10 large eggs
1/2 teaspoon salt
1/4 teaspoon cayenne
1/4 teaspoon paprika
1/2 teaspoon freshly ground black pepper
1/4 teaspoon freshly grated nutmeg
8 cups 1-inch cubed Italian bread, from a 14- to 16-ounce loaf
Nonstick spray for pan
3 tablespoons butter
8 ounces Canadian bacon, chopped into 1/2-inch pieces
1 small onion, chopped, about 1 cup
1 pound spinach, cleaned
1 teaspoon minced garlic
1/2 pound grated Gruyere cheese, about 2 cups
1/2 cup finely grated Parmesan
Cooking Directions
Whisk together the half and half, eggs, salt, cayenne, paprika, black pepper and nutmeg in a large bowl or container. Add the cubed bread, cover, and set aside for at least one hour at room temperature or up to overnight in the refrigerator.
Preheat the oven to 400 degrees F.
Spray the bottom and sides of a 12-inch skillet generously with the nonstick cooking spray. Add the butter and melt it over medium-high heat.
Add the Canadian bacon, onion, and spinach and cook for two minutes, add the garlic and cook one minute longer. Remove half of the mixture from the pan and set aside. Reduce the heat to medium.
Using a large spoon, add half of the bread mixture to the pan. Sprinkle half of the cheeses over the bread, then top with the remaining half of the spinach mixture. Spoon the remaining bread on top and finish with the remaining cheese.
Place the pan in the oven and bake until puffed and golden brown, 25 minutes or until center is set. Let stand 5 minutes before serving.
To serve, run a rubber spatula around the sides and bottom of the pan to loosen the edges from the pan. Tilt the pan, give it a slight shake, and allow the breakfast bake to slide onto a serving plate. Alternatively, slice directly in the pan and serve.
Yield 8-10 servings
Recipe courtesy Emeril Lagasse, courtesy MSLO, Inc.
Food styled by Karen Pickus
Other Recipes That You Might Like