Smoked Salmon "Oscar" Matzo with Beluga Caviar
Eat Like a Star with Wolfgang Puck's Recipe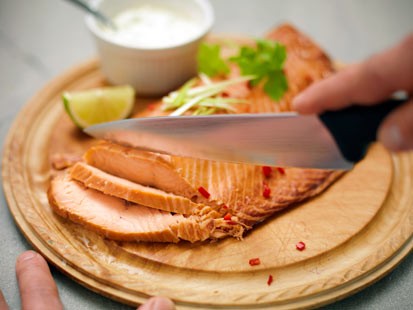 From the kitchen of Wolfgang Puck
|
Once again, Chef Wolfgang Puck is in charge of the menu for the exclusive Governors Ball following the Oscars. You, too, can eat like a star by following Puck's recipe for Smoked Salmon "Oscar" Matzo with Beluga Caviar below.
Ingredients
1 pound smoked salmon
1 cup dill cream (recipe follows)
2 ounces beluga caviar
1/4 ounce fresh chives, finely diced
Dill Cream
1 cup sour cream
1 tablespoon lemon juice, freshly squeezed
2 tablespoons shallots, finely chopped
1 tablespoon fresh dill, finely chopped
Ground white pepper
Kosher salt
Cooking Directions
Cut matzo into Oscar shape and bake until crispy in a 350 degrees F oven.
For dill cream, whisk ingredients together thoroughly. Lightly coat matzo with dill cream.
Layer smoked salmon on top and garnish with beluga caviar and a sprinkling of chives.
Other Recipes That You Might Like