Sweet Berry Bruschetta
From the Comfort Food Diet Cookbook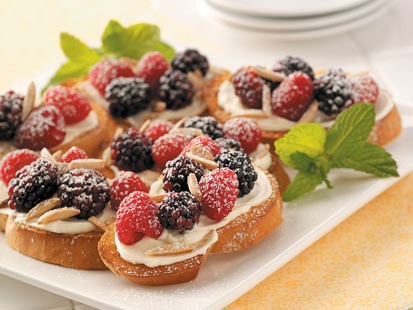 From the kitchen of Taste of Home
|
Ingredients
10 slices French bread (1/2 inch thick)
5 teaspoons sugar, divided
6 ounces Kraft Philadelphia® - Cream Cheese – Fat Free
1/2 teaspoon almond extract
3/4 cup fresh blackberries
3/4 cup fresh raspberries
1/4 cup slivered almonds, toasted
2 teaspoons confectioners' sugar
Cooking Directions
Place bread on an ungreased baking sheet; lightly coat with cooking spray. Sprinkle with 2 teaspoons sugar. Broil 3-4 in. from the heat for 1-2 minutes or until lightly browned.
In a small bowl, combine the cream cheese, almond extract and remaining sugar. Spread over toasted bread. Top with berries and almonds; dust with confectioners' sugar.
Yield: 10.
Find all the recipes for Week One of Taste of Home's Comfort Food Diet Cookbook.
Nutritional Analysis:1 piece equals 92 calories, 2 g fat (trace saturated fat), 1 mg cholesterol, 179 mg sodium, 14 g carbohydrate, 2 g fiber, 4 g protein.
Diabetic Exchanges: 1 starch, 1/2 fat.
Other Recipes That You Might Like