Nutty Yogurt Smoothie
Enter Emeril's Breakfast in Bed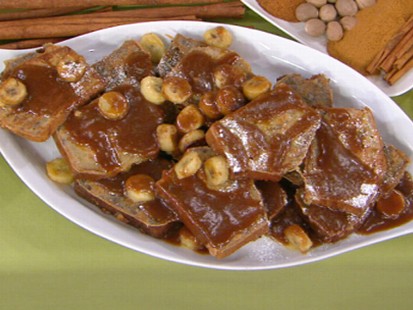 Emeril prepares the Banana Bread French Toast that he made for one special mom.
From the kitchen of Emeril Lagasse
|
Does your mom deserve breakfast in bed prepared by chef Emeril Lagasse? Then enter "Good Morning America's" Emeril's Mother's Day Breakfast in Bed contest.
Ingredients
1 pint premium nonfat vanilla frozen yogurt
1/2 cup almond milk
2 tablespoons peanut butter or almond butter
1 teaspoon vanilla extract
Cooking Directions
Place all the ingredients in a blender and process on low speed until well incorporated and a smooth shake forms, 30 to 45 seconds. Divide evenly among 4 glasses and serve immediately.
*Cook's Note: For an extra-special treat, blend in 3/4 cup of crumbled cookies (such as chocolate sandwich cookies, chocolate chip cookies, or shortbread.)
Yield: 4 servings
Recipe courtesy Emeril Lagasse, courtesy MSLO, Inc.
Food styled by Karen Pickus
Other Recipes That You Might Like