Almond Berry Smoothie
Enter Emeril's Breakfast in Bed Contest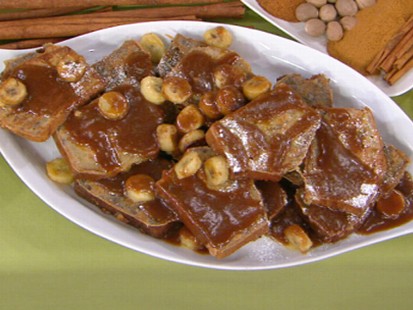 Emeril prepares the Banana Bread French Toast that he made for one special mom.
From the kitchen of Emeril Lagasse
|
Does your mom deserve breakfast in bed prepared by Chef Emeril Lagasse? Then enter Good Morning America's "Emeril's Mother's Day Breakfast in Bed" Contest.
Ingredients
1 cup Greek-style nonfat yogurt
1 cup almond milk
1 cup frozen mixed berries or strawberries
1/2 cup frozen cherries or other frozen fruit of choice
2 tablespoons honey
1/2 teaspoon vanilla extract
1/8 teaspoon almond extract
Cooking Directions
Combine all ingredients in a blender and blend until smooth.
Serve immediately.
Yield: 2 smoothies
Recipe courtesy Emeril Lagasse, courtesy MSLO, Inc.
Food styled by Karen Pickus
Other Recipes That You Might Like