Monkey Bread Muffins
A Tasty Twist on Monkey Bread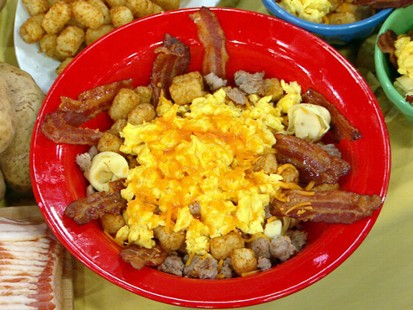 The country music sensation prepares Garth Brooks' favorite breakfast.
From the kitchen of Trisha Yearwood
|
"Monkey bread is usually baked in a large tube pan and served by pulling off a 'lump' of bread at a time. My niece Ashley tried this idea for making monkey bread in individual servings by downsizing the biscuit pieces and using our Hot Maple Syrup in the mix. The muffins are a lot cuter and less messy!"
-- Trisha Yearwood
Ingredients
1 12-ounce can biscuits (10 in each can)
3 tablespoons Hot Maple Syrup (CLICK HERE for the recipe)
1/4 cup (1/2 stick) butter, melted
2/3 cup sugar
1 tablespoon ground cinnamon
1/2 cup finely chopped pecans
Cooking Directions
Preheat the oven to 375°F.
Place cupcake liners in 12 muffin cups. With kitchen shears, cut each biscuit into 4 pieces.
In a small bowl, combine the maple syrup and melted butter.
In a separate bowl, mix the sugar, cinnamon, and chopped pecans. Dip each biscuit piece into the maple butter, and roll in the sugar mixture. Place 3 or 4 coated pieces in each muffin cup, pressing to compact.
Bake the muffins for 15 to 17 minutes. Allow to cool in the pan for 5 minutes before removing to wire racks. Serve warm.
NOTE: To make traditional monkey bread, grease all surfaces of a 10-inch tube pan. Drop the coated biscuit pieces evenly inside the tube pan. Pour the maple butter over the biscuits and bake at 350°F for 40 to 45 minutes. Let the bread stand for 5 minutes before turning out onto a cake plate. Pull off one lump at a time.
Serves 12
Courtesy Trisha Yearwood, "Home Cooking With Trisha Yearwood."
This recipe was styled by chef Karen Pickus for Good Morning America.
Other Recipes That You Might Like