Orange Curd
Perfect With Rosemary Buttermilk Scones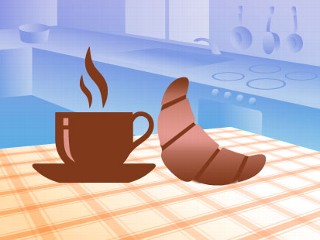 From the kitchen of Emeril Lagasse
|
"Five simple farm-fresh ingredients -- a luscious indulgence. We love this with the Rosemary Buttermilk Scones."
-Emeril Lagasse
Ingredients
1 1/2 cups freshly squeezed orange juice
6 large egg yolks
6 tablespoons sugar
2 teaspoons finely grated orange zest
4 tablespoons cold unsalted butter, cut into 8 pieces
Cooking Directions
Set a small heatproof liquid measuring cup next to the stove. Reduce the orange juice in a small saucepan set over medium-high heat to 1/2 cup. Use the measuring cup intermittently to check your volume. Set aside to cool slightly.
Fill a small pot one-third of the way with water and bring to a boil.
In a medium bowl, whisk together the yolks, sugar and orange zest. Slowly add the reduced orange juice while whisking continuously until completely incorporated. Set the bowl over the pot of simmering water. Reduce the heat to medium low. Whisk constantly for 6 to 7 minutes, or until curd thickens and holds its shape when stirred. Remove the curd from the heat and stir in the butter.
Strain the curd through a fine mesh sieve into a metal bowl set over a bowl of ice water. Stir the curd occasionally until cool, about five minutes. Transfer the curd to a small container, cover with plastic wrap, and refrigerate until well chilled. Use within one week.
Yield: 2 cups
Recipe courtesy Emeril Lagasse, from Emeril's Farm to Fork, HarperStudio Publishers, New York, 2010, copyright MSLO, Inc.
Food Styled by Karen Pickus
Other Recipes That You Might Like