Farmer's Market Frittata
Perfect Spring Dish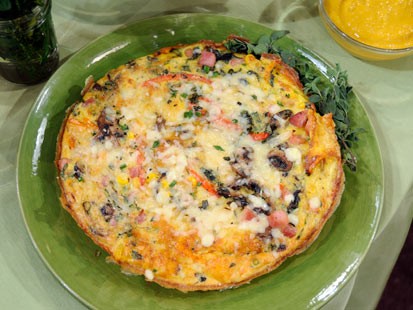 From the kitchen of Emeril Lagasse
|
"Breakfast, brunch, lunch or dinner? And anywhere in between: eat a frittata. You can easily substitute other chopped vegetables, cup for cup, for the filling ingredients here. You could also use leftover cooked ingredients such as potatoes, kale, ramps or spinach: chop them small and warm them in the pan with the other ingredients just before you add the eggs."
-Emeril Lagasse
Ingredients
8 eggs
3 tablespoons heavy cream
1/2 teaspoon salt
1/4 teaspoon freshly ground black pepper
3 tablespoons butter
1 cup thinly sliced onions
1 cup thinly sliced bell peppers, yellow, red or orange or a mix
1 cup thinly sliced mushrooms, about 1/4 pound
1 cup fresh corn
1 cup small diced smoked ham
2 tablespoons chopped fresh herbs such as chives, basil, thyme, parsley, oregano or your favorite mix
1 cup grated Swiss cheese, about 1/4 pound
Cooking Directions
Set a rack on the upper one-third of the oven and preheat the broiler.
In a small bowl, whisk the eggs, the cream, the salt and the pepper until combined.
In a 10-inch saute pan, melt 2 tablespoons of the butter over medium-high heat. Add the onions and peppers and cook for 7 to 8 minutes, stirring as needed until soft.
Add the mushrooms and corn or other chopped fresh vegetables and cook for 2 minutes.
Add the ham and cook until warmed through for one minute.
Add the remaining tablespoon of butter and, when melted, add the egg mixture.
Sprinkle the fresh herbs over the eggs and top with the grated cheese.
Reduce the heat to medium and cook the eggs, undisturbed, for 3 minutes, or until the surface of the eggs begin to bubble and the bottom starts to set.
Immediately place the saute pan in the oven and broil the eggs until golden brown on the top and sides, 3 to 4 minutes.
Remove the pan from the oven. Using a rubber spatula, loosen the frittata from the sides of the pan. Tilt the pan and gently slide the frittata onto a serving plate.
Serve hot or warm.
Yield: Serves 6
Recipe courtesy Emeril Lagasse, from Emeril's Farm to Fork, HarperStudio Publishers, New York, 2010, copyright MSLO, Inc.
Food Styled by Karen Pickus
Other Recipes That You Might Like