Blueberry Scones with Lemon Glaze
Money-Saving Meals for Spring Fling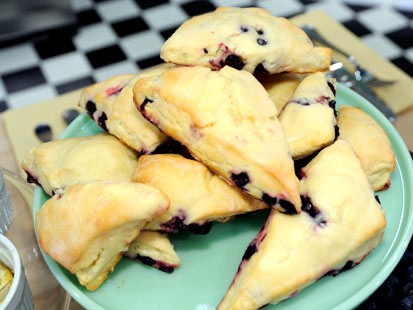 From the kitchen of Sandra Lee
|
Ingredients
2 1/2 cups baking mix
1/4 cup sugar
1/2 stick unsalted butter (1/4 cup)
2 large eggs
1/4 cup milk
1/2 cup frozen blueberries
Flour for dusting
1 cup confectioners' sugar
Juice of 1 lemon
1/2 teaspoon vanilla
Cooking Directions
Heat the oven to 400 degrees F.
For the scones: Whisk together the baking mix and sugar. Mix in the butter with your hands or a pastry blender until the butter is the size of peas. Beat the eggs well with the 1/4 cup milk. Pour the wet ingredients into the dry ingredients and mix just until blended. Do not over mix. Gently fold in the blueberries. Turn the dough out onto a floured surface and pat into a 3/4-inch thick square. Cut into 4 squares and cut each square into 2 triangles. Place the scones onto an ungreased baking sheet and bake until golden brown, about 15 minutes or so. Remove to a wire rack and let cool a bit before glazing.
For the glaze: Whisk together the confectioners' sugar, lemon juice, and vanilla until smooth. Pour evenly over the still warm scones.
-Food styled by Karen Pickus.
Other Recipes That You Might Like