B. Smith's French Toast
Treat Your Mom Like a Queen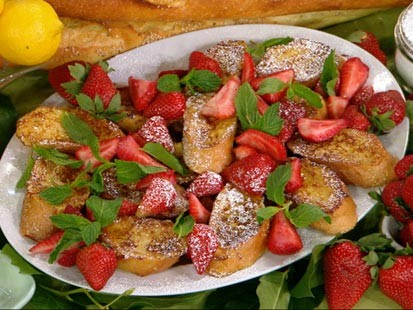 From the kitchen of B. Smith
|
As part of our huge Mother's Day Blowout, B. Smith shows us some delicious recipes that are easy enough for the kids to make for mom (with Dad's help!).
Ingredients
4 large eggs
1 1/2 cups whole milk
1 1/2 teaspoons vanilla
1/4 cup sugar
1 1/2 teaspoon freshly grated nutmeg
Zest of one lemon
1 10-ounce loaf day-old French bread
4 tablespoons melted butter
1/4 cup canola oil
Fresh strawberries, cleaned and quartered, for garnish
Cary's Sugar Free Maple Syrup
Confectioners' sugar, for garnish
Fresh mint leaves, optional for garnish
Cooking Directions
Preheat oven to 250ºF. Place eggs, milk, vanilla, sugar, nutmeg and lemon zest into a large bowl. Blend mixture together with a wire whisk until mixture is combined, and pour into a 9-x-13-x-2-inch metal or ceramic baking pan. Slice the bread on the bias into 1-inch-thick slices (you should have 12 pieces). Place the bread pieces into the egg mixture, let soak for 5 minutes, then turn the slices over, and soak the flip sides for another 5 minutes. Cover with plastic wrap and refrigerate for at least 1 hour, or overnight.
Place the melted butter and canola oil in a small bowl and stir well to combine. Using a pastry brush, spread about 2 tablespoons of the butter/oil mixture on a nonstick griddle or skillet over medium-high heat. Place 4 prepared bread slices at a time on the griddle and cook about 2 to 3 minutes per side, just until pieces are golden brown and crispy on the outside.
Remove slices to a cookie sheet; place in preheated oven to keep warm. Continue cooking the rest of the prepared bread slices in the butter/oil mixture until done.
To serve, place two slices of Pan Perdu on each plate and garnish with fresh strawberries. Drizzle with a generous portion of warmed syrup and a dusting of confectioner's sugar. Garnish each plate with fresh mint leaves, if desired.
Food styled by Karen Pickus
Other Recipes That You Might Like