B. Smith's Turkey Hash
Treat Your Mom Like a Queen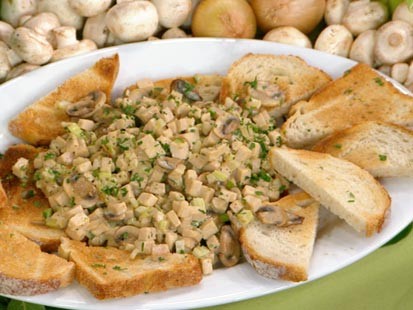 From the kitchen of B. Smith
|
As part of our huge Mother's Day Blowout, B. Smith shows us some delicious recipes that are easy enough for the kids to make for mom (with Dad's help!).
Ingredients
4 tablespoons butter
2 tablespoons vegetable oil
1 cup finely diced onions
1/2 cup diced celery
1/4 cup finely diced green bell pepper
1/2 pound fresh mushrooms, sliced
1/4 cup flour
2 cups turkey or chicken stock or broth
4 cups finely diced or shredded roasted turkey
1/4 cup finely chopped fresh parsley
1 tablespoon Worcestershire sauce
1 teaspoon salt
1/2 teaspoon freshly ground black pepper
1/2 cup heavy cream, as needed
Cooking Directions
Melt the butter and oil in a large skillet over medium heat. Add the onions, celery, and green pepper, and stir for 5 minutes, until vegetables are soft. Add the mushrooms and continue cooking, stirring occasionally, for 8 to 10 minutes, until the mushrooms are cooked and the liquid has evaporated.
Stir in the flour, incorporating well, then add the stock or broth to the pan. Stir with a whisk until the sauce comes to a boil, thickens slightly, and is smooth. Reduce the heat to low.
Add the turkey, parsley, Worcestershire, salt, and pepper. Simmer, stirring frequently, for 3 to 4 minutes, until hash is heated through. If the hash looks a little dry, add heavy cream by the tablespoonful, until the hash reaches the desired consistency. Serve immediately.
Food styled by Karen Pickus
Other Recipes That You Might Like