Emeril's Huevos Rancheros
Treat Your Mom Like the Queen She Is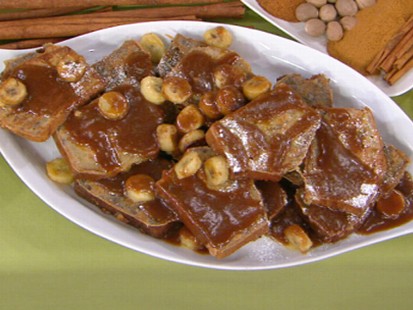 Emeril prepares the Banana Bread French Toast that he made for one special mom.
From the kitchen of Emeril Lagasse
|
Ingredients
2 tablespoons plus 2 teaspoons vegetable oil
1 cup chopped white onions
1/2 cup chopped red bell pepper
1/2 cup chopped green bell pepper
1 teaspoon ground cumin
1/2 teaspoon salt
1/4 teaspoon cayenne
1 tablespoon minced jalapeno
1 tablespoon minced garlic
1 cup petite diced tomatoes (and their juice)
1 cup chicken stock
3 tablespoons chopped cilantro
1 cup diced chorizo, about 6 ounces
4 large corn tortillas
1 14.5 ounce can black beans, warmed
2 tablespoons unsalted butter
8 large eggs
1 1/2 cups grated pepper Jack
Cooking Directions
To make the ranchero sauce, in a medium pot, heat 2 tablespoons of the oil over medium-high heat. Add the onions and bell peppers, and cook, stirring, for 3 to 5 minutes. Add the cumin, salt, cayenne, jalapeno, and garlic, and cook, stirring, for 30 seconds. Add the tomatoes and their juices and cook, stirring, for 2 minutes. Add the stock and simmer until thickened, about 15 minutes. Remove from the heat and add the cilantro. Adjust the seasoning to taste, and cover to keep warm.
Heat a large nonstick skillet over medium-low heat. Add the chorizo and cook, stirring, 8 to 10 minutes, until the sausage is golden brown and cooked through. Transfer the chorizo with a slotted spoon to a paper towel-lined plate to drain. Set aside.
In the same skillet, heat 1/2 teaspoon of the remaining vegetable oil over medium-high heat. Add 1 tortilla and cook until warmed through and just starting to brown about 30 seconds. Turn and cook on the second side briefly. Remove, cover to keep warm, and repeat with the remaining oil and tortillas.
Melt 1 tablespoon of butter in each of 2 large nonstick skillets over medium-high heat. Break 4 eggs into each skillet and fry until eggs are beginning to set, about 1 minute. Sprinkle the eggs with the cheese and cover to finish cooking, about 1 1/2 minutes.
Place 1 warm tortilla on each of 4 plates and spread each with 2 to 4 tablespoons of warmed black beans. Place 2 eggs on top of each tortilla and then spoon the warm ranchero sauce over all. Serve immediately.
Recipe courtesy Emeril Lagasse, courtesy Martha Stewart Living Omnimedia, Inc.
Other Recipes That You Might Like