Emeril's Sparkling Orange-Raspberry Eye-Opener
Treat Your Mom Like the Queen She Is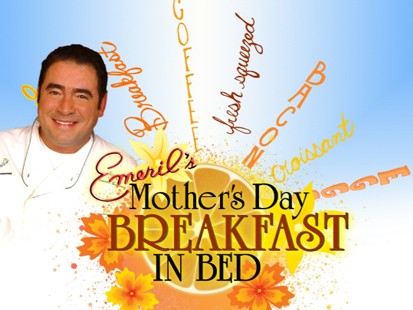 From the kitchen of Emeril Lagasse
|
Ingredients
1 ounce Raspberry Syrup, recipe follows
Crushed ice
2 ounces fresh squeezed orange juice
4 ounces sparkling water or seltzer
Raspberries or blackberries for garnish
Raspberry Syrup
1 cup sugar
1/4 cup Chambord or other raspberry flavored liqueur
1/4 cup water
2 pints raspberries
Cooking Directions
Place the Raspberry Syrup in the bottom of a tall glass; fill the glass with the crushed ice. Add the orange juice and then top with the sparkling water to taste. Garnish with fresh berries and serve immediately.
To make the Raspberry Syrup
In a small saucepan, combine the sugar, Chambord and water and bring to a boil, stirring occasionally to dissolve the sugar. Add the raspberries and cook for 10 to 12 minutes. Strain the mixture through a fine-mesh sieve lined with cheesecloth. Discard the solids. Transfer the syrup to a lidded glass jar and refrigerate for up to 4 weeks. Alternatively, the syrup may be stored in a plastic re-sealable container in the freezer for up to 6 months.
Note: Any leftover syrup is also excellent drizzled over ice cream, pancakes, or waffles, or stirred into club soda for homemade raspberry soda.
Yield: 2 cups syrup
Other Recipes That You Might Like