Emeril's Banana Bread French Toast
Pair With a Caramelized Banana Sauce to Make It Extra Sweet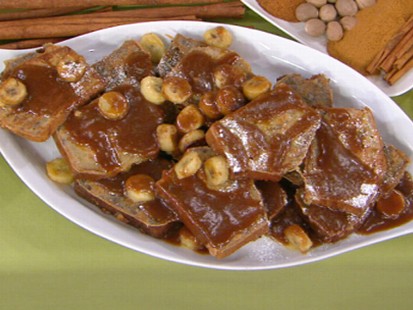 Emeril prepares the Banana Bread French Toast that he made for one special mom.
From the kitchen of Emeril Lagasse
|
Ingredients
4 large eggs
2 tablespoons milk
1/2 teaspoon vanilla extract
1/4 teaspoon ground cinnamon
1/8 teaspoon grated nutmeg
12 1-inch thick slices banana bread, either storebought or homemade
3 tablespoons unsalted butter
1 recipe Caramelized Banana Sauce, recipe below
For caramelized banana sauce
3 ripe bananas, peeled
4 tablespoons unsalted butter
1 cup packed light brown sugar
3/4 teaspoon ground cinnamon
1/4 cup banana liqueur, optional
1 teaspoon vanilla extract
2 tablespoons sour cream
Cooking Directions
Preheat the oven to 250 degrees F.
In a medium size mixing bowl, whisk together the eggs, milk, vanilla extract, cinnamon and nutmeg. Place two slices of banana bread in the egg mixture and toss to coat and let them sit about 1 1/2 minutes per side. Transfer to a plate and repeat with the remaining slices.
Preheat a large nonstick skillet over low heat. Add 1 tablespoon of the butter. When the butter has melted, add 4 slices of the banana bread and cook until golden brown on both sides, about 1 1/2 minutes per side and then transfer to a platter. Repeat two more times, with the remaining butter and remaining slices of banana bread. Place the banana bread french toast in the oven while preparing the sauce.
To serve, stack 3 slices of french toast on a plate and spoon 1/4 cup of Caramelized Banana Sauce over the top. Serve immediately.
For caramelized banana sauce
Cut the bananas into 1/4 inch rounds.
Melt the butter in a large skillet over medium heat. Add the brown sugar and cinnamon and cook, stirring, until the sugar dissolves, about 2 minutes. Add the bananas and turning, cook on both sides until the bananas start to soften and brown, about 3 minutes. Add the banana liqueur and the vanilla extract and stir to blend into the caramel sauce.
Swirl in the sour cream.
Serve immediately.
Yield: 2 cups
Recipe courtesy Emeril Lagasse, courtesy Martha Stewart Living Omnimedia, Inc.
Other Recipes That You Might Like