Emeril's Banana Bread
Eat This As Is or Make French Toast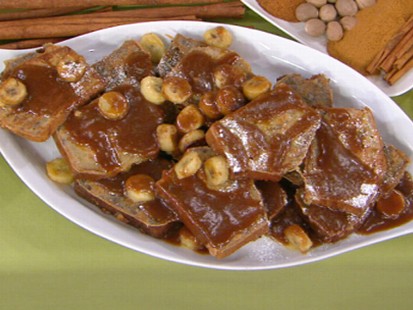 Emeril prepares the Banana Bread French Toast that he made for one special mom.
From the kitchen of Emeril Lagasse
|
Ingredients
10 tablespoons plus 1 teaspoon butter
1 cup mashed ripe bananas (about 2 large bananas)
1/2 cup sour cream
2 large eggs
1 1/2 teaspoons vanilla
2 cups cake flour
3/4 cup plus 2 tablespoons sugar
1 teaspoon baking soda
3/4 teaspoon baking powder
1/2 teaspoon salt
1 cup toasted, chopped walnuts or pecans, optional
Cooking Directions
Preheat the oven to 350 degrees F.
Lightly grease a 9 1/4 by 5 1/4 by 2 1/2-inch loaf pan with 1 teaspoon of the butter.
Puree the bananas, sour cream, eggs and vanilla in a food processor.
Sift the cake flour, sugar, baking soda, baking powder and salt into the bowl of an electric mixer fixed with a whisk attachment. Add the remaining 10 tablespoons butter and mix on medium-low speed until blended, about 30 seconds. Add the banana mixture in 3 batches, scraping the sides of the bowl and mixing on medium speed between each addition. Fold in the nuts if desired.
Pour into the loaf pan. Bake until lightly browned and bread bounces back to the touch, about 1 hour 10 minutes. Remove from the oven and cool for 10 minutes before turning out onto wire rack to cool completely.
Recipe courtesy Emeril Lagasse, courtesy Martha Stewart Living Omnimedia, Inc.
Other Recipes That You Might Like