Sunny Point Cafe's Huevos Rancheros
Huevos Rancheros from "GMA Best Breakfast" finalist Sunny Point Cafe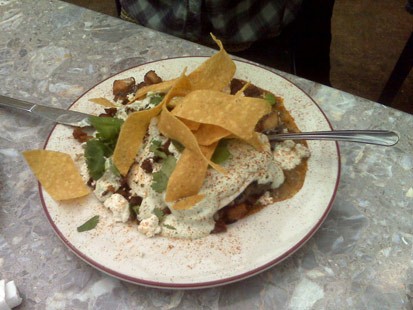 From the kitchen of Sunny Point Cafe in Asheville, N.C.
|
Sunny Point Cafe's Huevos Rancheros is a combination of several recipes and an assembly event. Give your self plenty of time to make each element of the dish and when ready to serve all you really have to do is cook your farm fresh eggs to order.
Ingredients
For Huevos:
4 cups red skin potatoes, fried or roasted
2 lbs chorizo sausage, cooked and crumbled
16 eggs
1 cup feta cheese, crumbled
1 package fried torilla strips
fresh chopped cilantro, to taste
chipotle power, for garnish
For Roasted Green Salsa:
1 3/4 lbs fresh tomatillos
1/4 cup yellow onion, minced
2 garlic cloves, peeled
1 tsp dried oregano
1tsp dark chili power
1 tsp ground cumin
1 tsp kosher salt
1 tsp ground black pepper
2 tbls olive oil
1 or 2 serrano peppers, minced
1/2 cup fresh cilantro, chopped
For Black Bean Cakes:
2 15-ounce cans cooked black beans
2 tbls canola oil
2 tbls yellow onion, minced
2 garlic cloves, minced
1 tsp ground cumin
1 tsp kosher salt
1/4 cup masa de harina
For Cilantro Crema:
1 cup sour cream
1/2 cup fresh cilantro, chopped
1/2 lime, fresh-squeezed lime juice
Cooking Directions
For Roasted Green Salsa:
Preheat the oven to 350 degrees. Place tomatillos in a large bowl with water and peel the husks off of them. Place them in a large roasting pan and top with onion, garlic, oregano, chili powder, cumin, salt and pepper. Drizzle olive oil over the top of the tomatillos and place roasting pan in the oven for 25 to 35 minutes. The tomatillos will break down and become juicy. Remove from oven and cool. Once tomatillos have cooled place in the bowl of a food processor fitted with a metal blade and puree with serrano and fresh cilantro.
For Black Bean Cakes:
Rinse and drain black beans. In a small saute pan heat 1 tablespoon of the canola oil over medium heat. Cook onion, garlic, cumin and salt until onions are translucent. Place drained beans and onion mixture in a small mixing bowl with a paddle attachment and mix together on low speed until well combined. Gradually add masa, allowing mixture to absorb it before adding more. Test dough by rolling it in the palm of your hand. Keep adding masa until dough doesn't stick to your hand and holds in the shape of a ball. Divide the dough into 16 small balls and flatten into cakes. Place a large skillet or griddle over medium heat and add the remaining 1 tablespoon of canola oil. Cook cakes until lightly browned on each side, about 3 to 5 minutes per side.
For Cilantro Crema:
Place sour cream, cilantro and lime juice in the bowl of a food processor and puree until mixture is smooth and a pale green color. Set aside for garnish.
For Huevos:
Place a 1/4 cup of green salsa on the bottom half of serving plate. On the other half of the plate, place 1/2 cup of herb-seasoned potatoes. On top of potatoes place 2 freshly grilled black bean cakes. In a large saute pan over medium heat, cook your eggs to order. For a large group, scrambled eggs are easiest. Top potatoes, green salsa and bean cakes with eggs, crumbled chorizo sausag, and feta cheese. Lastly, garnish each plate with tortilla strips, cilantro crema and a dusting of chipotle powder. Congratulations, you have constructed a Sunny Point Huevos!
Other Recipes That You Might Like