The Friendly Toast's King Cakes
King Cakes from "GMA Best Breakfast" finalist The Friendly Toast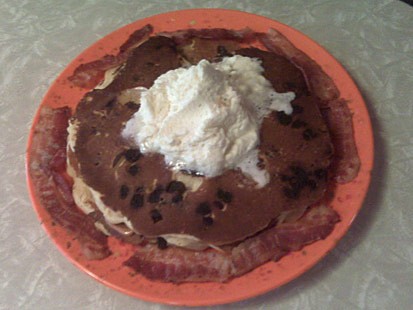 From the kitchen of The Friendly Toast in Portsmouth, N.H.
|
Ingredients
2 1/5 cups flour
1/2 cup cornmeal
1/2 tbls baking powder
1/2 cup sugar
1/2 tbls baking soda
1 tsp salt
1/2 cup brown sugar
1/2 cup butter, melted
1 1/2 cups water
3 eggs, beaten
1 tbls vanilla extra
5 tbls peanut butter
3 bananas
1 16-ounce package chocolate chips
1 lb bacon
1 tbls whipped cream
Cooking Directions
Mix dry ingredients in a large bowl. Add wet ingredients. Stir until blended but do not over-mix, about 2 minutes. Spoon two pancakes onto 350 degree grill or large skillet at medium-high heat with a 6 ounce ladle. Add half a sliced banana and a handful of chocolate chips to each cake. Flip when bubbles appear on the surface. Cook four pieces of bacon simultaneously. Plate one finished pancake, spread peanut butter on top, then place the other pancake over it. Place the bacon around the perimeter of the plate. Top with whipped cream.
Other Recipes That You Might Like