Granola with Peach Compote and Yogurt
A Michael Anthony-Jennifer Hudson Collaboration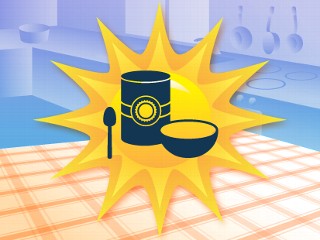 From the kitchen of Michael Anthony
|
Ingredients
For the granola:
1 cup rolled oats
1 cup wheat flakes
1 cup rolled rye
1 cup almonds (or hazelnuts or walnuts)
1/2 cup sunflower seeds
2 tbs. sesame seeds
1/4 cup vegetable oil
2 tbs. honey
1/4 cup maple syrup
1 cup raisins
1 cup dried apricots (or apples)
3/4 tsp salt
For the peach compote:
8 peaches (1 lb.)
2 tbs. honey
1 cup orange juice
1 cup water
1 sprig mint
Cooking Directions
Preheat the oven to 250 degrees.
In a large bowl toss the oats, wheat, rye, seeds and nuts. In a separate bowl toss the honey, maple syrup, salt and oil. Combine both mixtures and pour on to a baking sheet tray.
Bake for about an hour, stirring every 15 minutes to achieve an even color. Remove from oven, add the dried fruit and let cool. Store in tightly sealed container.
Cut each peach in half and remove the pit. Arrange cut side down in an oven-safe sauce pan, add honey, orange juice and water.
Bring to a simmer on medium flame.
Cover with lid and put in a 350 degree oven for 30 minutes, or until peaches become very soft.
Remove from oven, add mint and let the peaches cool in liquid to room temperature on stove top.
Serve either warm or allow to chill in fridge.
Start by placing the peach compote in the bottom of a bowl.
Put a spoonful of yogurt on the compote and sprinkle the granola generously over the top.
Note: Peach compote can be made a day in advance.
Other Recipes That You Might Like