Home
>
GMA
>
Recipes Home
>
Wolfgang Puck's Baked Potatoes with Scrambled Eggs and Smoked Salmon Brunch
Wolfgang Puck's Baked Potatoes with Scrambled Eggs and Smoked Salmon Brunch
A Sophisticated Brunch fit for Stars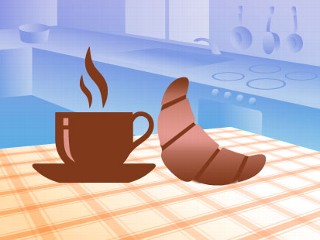 From the kitchen of Wolfgang Puck
|
Celebrity Chef Wolfgang Puck, the man behind the food at the Governors Ball, has spent the last three days concocting an array of sumptuous treats for almost 2,000 of Hollywood's elite.
Puck offered up a post-Oscars brunch that's fit for stars on Good Morning America, but you can make it for your own A-list at home. Check out his recipe for Baked Potatoes with Scrambled Eggs and Smoked Salmon.
Ingredients
2 medium baking potatoes
4 large eggs
1/4 cup milk or half-and-half
Kosher salt and freshly ground black pepper
4 tbsp. unsalted butter (1/2 stick), cut into small pieces
2 ounces smoked salmon, cut into very thin slices
Chopped chives, for garnish
1 to 2 teaspoons caviar or salmon roe (optional)
Cooking Directions
Preheat oven to 350 degrees F.
Wash and dry potatoes. Wrap individually with aluminum foil. Place on baking sheet and bake for 1 hour. Remove potatoes from oven and set aside.
In a medium bowl, whisk together the eggs, milk, salt, and pepper.
In a 10-inch skillet, melt the butter. Over low heat, scramble the egg mixture until the eggs are softly set. Do not overcook.
Add salmon to skillet when eggs are just finished. Add chopped chives.
Cut each potato in half by cutting down the middle. Scoop out some of the insides and mash down with fork to create a well for the eggs.
Spoon the eggs and salmon into the shell of the potato. Top with caviar, if desired. Serve immediately.
Recipe courtesy Wolfgang Puck, 2004
Other Recipes That You Might Like