Emeril's Bacon Pancakes With Walnut Butter
Emeril Lagasse Makes Breakfast in Bed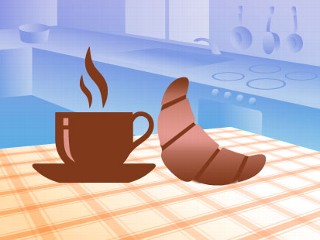 From the kitchen of Emeril Lagasse
|
Emeril's Breakfast in Bed was served a delicious meal by the kick-it-up-a-notch chef himself.
You can surprise someone you know or just treat yourself to his recipe for Bacon Pancakes with Walnut Butter and Caramelized Onions.
Ingredients
Pancakes
6 slices thick-cut bacon, chopped
2 cups all purpose flour
2 teaspoons baking powder
1/4 teaspoon salt
1 large egg, beaten
2 1/4 cup buttermilk
2 tablespoons vegetable oil
Walnut butter, recipe below
Caramelized onions, recipe below
Walnut Butter
1/2 cup walnut pieces
8 tablespoons unsalted butter, cut into pieces, at room temperature
1 tablespoon shallots, minced
1/2 teaspoon salt
Caramelized Onions
8 tablespoons unsalted butter
2 pounds yellow onions, peeled and very thinly sliced
Cooking Directions
Pancakes
Cook bacon in a large skillet over medium-high heat until crisp, about 5 minutes. Remove from the pan and drain on paper towels.
Sift the flour, baking powder, and salt into a large bowl. Add the egg and buttermilk and stir until just blended, being careful not to overmix. Add the bacon and stir to blend.
Heat 2 teaspoons of the oil in a large nonstick skillet over medium-high heat. Ladle 2 tablespoons of the batter for each pancake into the pan, without crowding, and cook until golden brown on both sides, 2 to 3 minutes per side. Transfer to a plate and cover to keep warm. Repeat with the remaining batter, adding more oil to the pan as needed.
To serve, place three pancakes on each plate. Top each serving with a slice of the walnut butter and some onions, and serve immediately.
Walnut Butter
Preheat the oven to 400 degrees F.
Spread the walnuts on a baking sheet and lightly toast in the oven for 5-7 minutes. Remove from the oven and let cool, then coarsely chop.
Place the butter, walnuts, shallots, and salt in a medium bowl and mix well with a rubber spatula. Spoon the butter mixture into the center of a sheet of plastic wrap or wax paper, forming a log about 1 inch in diameter. Fold the wrap over the butter and gently push in and under to form a smooth cylinder. Twist the ends to seal. Refrigerate until firm, about 1 hour. (Refrigerate for up to 1 week or freeze for up to 1 month)
Caramelized Onions
Melt the butter in a large skillet over medium-high heat. Add the onions, reduce the heat to medium-low and cook slowly, stirring occasionally, until golden brown and caramelized, 45 minutes to one hour. Remove from the heat and serve hot.
Excerpted from "Emeril's Kitchens," released in October 2003.
Other Recipes That You Might Like