Alton Brown's Wisconsin Mess
A Hearty Egg Breakfast With a Little Bit of Everything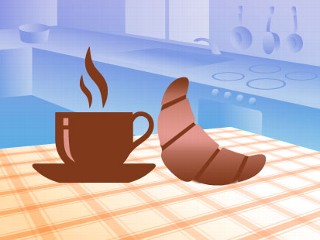 From the kitchen of Alton Brown
|
The Food Network's Alton Brown joined Good Morning America to share recipes from his newest book, "Feasting on Asphalt: The River Run."
This book documents his motorcycle ride from New Orleans to Minnesota along the nation's first "highway," the Mississippi River. He and his crew met the people and sampled the food that embody our American road-food heritage.
Here is Brown's signature "Mess," courtesy of the Great Alma Fishing Float, Alma, Wis.
Ingredients
1 medium potato, shredded
1/4 cup sausage, diced
1/4 cup bacon, diced
1/4 cup ham, diced
1/4 cup onions, diced
1/2 cup green bell peppers, diced
3 eggs
Pinch seasoned salt
Pinch black pepper, freshly ground
1/2 cup cheddar cheese, shredded
1/2 cup sauerkraut
2 tablespoons smoked fish, chopped (optional)
Toast
Cooking Directions
Heat a griddle over medium-high heat. Add potatoes, sausage, bacon, ham and fish and fry until browned, approximately 5-6 minutes.
Add the onions and peppers and fry until cooked through, approximately 2-3 minutes.
Scramble the eggs on the griddle and then add to potato mixture and stir to combine. Season with salt and pepper.
Place the mixture on a plate and top with the cheddar cheese.
Heat the sauerkraut on the griddle and then place over the cheese.
Add toast on the side.
Other Recipes That You Might Like