Biscuit Sticky Buns
Make an Amazing, Yet Simple Christmas Breakfast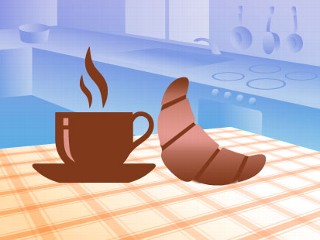 From the kitchen of Sara Moulton
|
Before you begin preparing for your incredible holiday dinner, you have to make an amazing, yet simple, Christmas breakfast.
"Good Morning America's" food editor, Sara Moulton, offers the perfect solution: Biscuit Sticky Buns.
Ingredients
Glaze
1/4 cup light brown sugar, packed
1/4 cup honey
4 tablespoons unsalted butter, (1/2 stick)
1/2 cup pecans, finely chopped lightly toasted
Buns
1/2 cup dried currants
2 tablespoons rum (or brandy)
2 cups all-purpose flour
3 tablespoons granulated sugar
1 tablespoon baking powder
1/2 teaspoon table salt
1 1/4 to 1 1/2 cups heavy cream
1/2 cup light brown sugar, packed
2 teaspoons ground cinnamon
1/4 cup honey, heated
Cooking Directions
To prepare the glaze, combine the sugar, honey, and butter in a small saucepan and stir over medium heat until melted and smooth. Pour into a nonstick 9-inch round cake pan and sprinkle on the pecans.
To make the buns, place the currants in a small bowl and add the rum. Pour in 1/4 cup hot water and set aside until the currants are softened, about 20 minutes. Drain well.
Preheat the oven to 425 degrees F. Sift the flour, granulated sugar, baking powder, and salt into a large bowl. Pour in 1 1/4 to 1 1/2 cups cream, or just enough to form a dough. On a lightly floured surface, knead the dough gently 3 times and roll into a rectangle that measures 18 inches long and 10 inches wide. Place the brown sugar in a small strainer and tap lightly to spread over evenly. Sprinkle on the cinnamon and the drained currants.
Beginning with a long side, roll up the dough tightly, jelly roll fashion, and use a sharp knife to cup 1-inch-thick slices. Fit the slices, cut side up, into the pan with the glaze and gently press down. Bake for 20 minutes or until a cake tester or toothpick inserted into the dough comes out clean.
Invert the buns onto a large plate and set aside for 5 minutes. Carefully reinvert onto a serving platter, plain side up, and brush with the heated honey. Cool completely before serving. Makes 18 small buns.
Recipes courtesy of Sara Moulton Cooks at Home, © 2002.
Other Recipes That You Might Like