Emeril's Bananas Foster Pancakes
Emeril Serves Principal Breakfast in Bed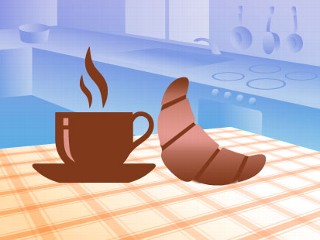 From the kitchen of Emeril Lagasse
|
The surprised winner of Emeril's Breakfast in Bed Contest is the principal of a Los Angeles charter school who has been credited with helping to save a poor neighborhood by inspiring its children to love school.
Good Morning America received thousands of essays for the Emeril's Breakfast in Bed Contest, but one nominee stood out: View Park Prep School Principal Michael Piscal.
Here is the recipe for the breakfast that Emeril prepared for Piscal. His students helped Emeril by wheeling in a bed that was brought to the school auditorium for the occasion.
Ingredients
Buttermilk Pancakes
2 cups all-purpose flour
2 teaspoons baking powder
2 teaspoons sugar
1/2 teaspoon salt
2 cups buttermilk
1 large egg, beaten
1 tablespoon vegetable oil (plus about 1/4 cup for the pan)
Bananas Foster
4 ripe bananas, peeled
4 tablespoons unsalted butter
1 cup light brown sugar, packed
3/4 teaspoon ground cinnamon
1/4 cup banana liqueur
1/2 cup dark rum
1 pint vanilla ice cream
Confectioners sugar, garnish
Ground cinnamon, garnish
Cooking Directions
Preheat the oven to 220° F. Sift together the flour, baking powder, sugar, and salt into a large bowl. Add the buttermilk, egg, and 1 tablespoon of oil, and stir just until blended, being careful not to over mix. (Lumps are OK.)
Heat a large heavy skillet or griddle over medium-high heat. Add enough oil to lightly grease and leave a film on the bottom of the pan.
Ladle the batter into the pan in batches of about 1/4 cup each. Cook until golden brown and bubbles start to form on the top side, about 2 minutes. Turn and cook on the second side. Transfer to a baking dish and place in the oven to keep warm until ready to serve.
Keep the pancakes warm on a baking dish in the oven at 220° F.
Cut the bananas in half across and then lengthwise.
Melt the butter in a large skillet over medium heat. Add the brown sugar and cinnamon and cook, stirring, until the sugar dissolves, about 2 minutes. Add the bananas and cook on both sides until the bananas start to soften and brown, about 3 minutes. Add the banana liqueur and stir to blend into the sauce. Carefully add the rum and shake the pan back and forth to warm the rum and flame the pan. (Or, off the heat, carefully ignite the pan with a match and return to the heat.) Shake the pan back and forth, basting the bananas, until the flame dies. Remove the pan from the heat.
Remove the pancakes from the oven and divide among 4 large plates. Top each serving with 1 scoop of vanilla ice cream. Gently lift the bananas from the pan and place 4 pieces on each stack of pancakes. Spoon the sauce over the bananas and ice cream and garnish with confectioners sugar and cinnamon. Serve immediately.
Recipe courtesy of Emeril Lagasse © 2002.
Other Recipes That You Might Like