The Davises' Banana Nut Bread
This Recipe Has an Extra Tablespoon of Patriotism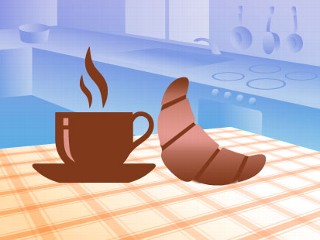 From the kitchen of Al and Barbara Davis
|
Al Davis is a long way from the front line, but the retired naval petty officer and his wife, Barbara, still serve their country. They just do it from their own kitchen.
Since the Persian Gulf War in 1991, the Florida couple has baked more than 14,000 banana nut bread cakes for American troops both in the United States and abroad, using an old family recipe.
All that baking caught the eye of Gen. Tommy Franks, head of the U.S. Army Central Command, who thanked the Davises on Feb. 25 before a daily briefing at the command post in Tampa, Fla.
"The first thing I want to do today is offer our appreciation to Al and Barbara Davis, who brought to my office, earlier today, a smile when they brought out a whole bunch of banana nut bread cakes and gave them to our people out in Coalition Village," Franks said. "[It's] much appreciated. [They're] wonderful folks."
From their small kitchen, the couple crank out seven loaves per batch, producing as many as several hundred loaves in just a few days. Several times a month, they delivers hundreds of the loaves to MacDill Air Force Base near Tampa, where some are sent abroad via medical transport planes.
The Davises developed their recipe during the Gulf War, because they felt the troops were not getting enough potassium and nutrition, and they wanted to remind them of home.
They pay for all the ingredients themselves, and have figured out it costs about $1.50 a loaf.
Contributions can be made out to:
Banana Bread for the Troops
First Union Bank, Attention: Tamie Mooney, 10500 Ulmerton Road, Suite 480 Largo, Fla. 33771
Ingredients
1 cup sugar
1/2 cup vegetable oil
2 eggs (extra large)
4 medium bananas (soft and ripe, not rotting)
1 teaspoon vanilla
2 cups flour
1 1/2 teaspoons baking soda
1/8 teaspoon salt
1 cup walnuts (shelled, not crushed)
Bread Pans (for this recipe, Barbara & Al use three pans, to make three loaves, of the following dimensions: 7 1/2 inches long — 3 1/4 inches wide — 2 1/2 inch deep)
Cooking Directions
Preheat oven to 350 degrees.
Grease pans or use pan liners for loaf pan.
Mash bananas. Add sugar, oil, eggs and vanilla. Mix well with mixer (medium speed).
Stir together flour, baking soda and salt and add to mixture and blend thoroughly.
Stir in nuts.
Pour mixture into greased or lined loaf pans.
Bake 35 to 45 minutes or until bread tests done.
Other Recipes That You Might Like