Tomato, Corn and Basil Soup
Heart Healthy Recipes From Dr. Andrew Weil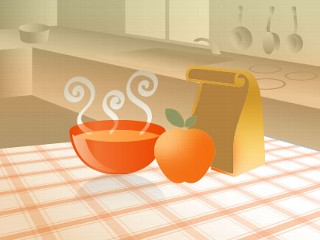 From the kitchen of Dr. Andrew Weil
|
Dr. Andrew Weil, the so-called father of alternative medicine, has just released a new cookbook with co-author Rosie Daley, Oprah Winfrey's former chef. They shared some of their best recipes with Good Morning America.
Ingredients
1 cup onion, finely chopped
2 tablespoons extra virgin olive oil
3 to 4 cloves garlic, minced
28 ounces canned ground tomatoes (preferably organic)
1 cup purified water
(3 cups fresh corn kernels cut from the cob (or 1 pound frozen sweet corn, preferably organic)
Salt and freshly ground black pepper, to taste
1 cup fresh basil, finely chopped
Cooking Directions
Sauté the onions in the olive oil in a saucepan over medium-high heat until they just begin to brown. Add the garlic and sauté for a minute, stirring constantly. Pour in the tomatoes and cook, stirring occasionally, until they give up their juice. Cover and continue cooking about 5 minutes more.
Add the water and corn to the soup and cook until the corn is soft and the kernels lose their raw taste, about 5 minutes. Season to taste with salt and pepper. Stir in the basil, mix well, remove the heat, and serve immediately.
Other Recipes That You Might Like