Scrambled Eggs with Fresh Salsa
Heart Healthy Recipes From Dr. Andrew Weil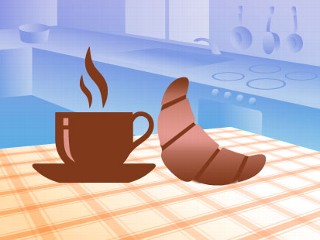 From the kitchen of Dr. Andrew Weil
|
Eating healthy can involve creating dishes that are not only good for you, but are also fun to prepare and delicious. Integrative medicine guru Dr. Andrew Weil, and Oprah Winfrey's former chef Rosie Daley teamed up to write The Healthy Kitchen, which starts off with advice about breakfast, and some mouth watering recipes.
Here is an excerpt from The Healthy Kitchen: Recipes for a Better Body, Life, and Spirit, by Andrew Weil and Rosie Daley.
There are two words for this dish: easy and nourishing. Everybody has time to make scrambled eggs! This meal is a good combination of protein from the eggs and carbohydrate from the bread. If you want to forgo the toast, wrap the scrambled eggs inside of a warm whole-wheat tortilla to make an egg burrito. No matter how you serve the scrambled eggs, the fresh salsa is what really makes this traditional breakfast food better than usual.
Keep in mind that if you are concerned about cholesterol, you can make this dish using only egg whites and get just as much nutritional value from it.
Ingredients
Salsa Ingredients
1 bunch cilantro (1/2 cup cilantro leaves)
1 cup tomatoes, chopped
1/4 cup red bell pepper, diced
1/4 cup red onion, diced
1 small jalapeño pepper, seeded and minced
2 tablespoons freshly squeezed lime juice
Egg Ingredients
1 tablespoon olive oil
1/2 cup mushrooms, sliced
1/2 cup green onions (or scallions), sliced
1/2 cup red bell pepper, chopped
1/2 cup yellow (or green bell pepper), chopped
6 whole eggs
1 teaspoon salt
1/4 cup milk
6 slices whole grain bread
6 slices honeydew melon
Cooking Directions
Make the salsa: Hold the cilantro under running water to wash off the dirt. Pinch the leaves off the stems, coarsely chop the leaves, and put them in a small bowl with the remaining salsa ingredients. Toss thoroughly until everything is blended together. Cover and refrigerate until ready to use.
Smear a nonstick medium sauté pan with 1/4 teaspoon of the oil and set it over medium heat. Sauté the mushrooms, onions, and peppers in the pan, tossing them occasionally, until limp, about 2 minutes. Remove from the heat.
Whisk the eggs, salt, and milk together in a small bowl. Coat the bottom of a separate pan with the remaining olive oil, set it over low heat, pour in the eggs, and partially cook them for 3 minutes, stirring with a wooden spoon until they are no longer runny. Transfer the partially cooked eggs to the pan with the vegetables and cook everything together for 1 minute, stirring with a wooden spoon or spatula. Remove from the heat and cover to keep warm.
Cut each bread slice diagonally, put them on a cookie sheet, and toast them under the broiler on the lower rack for less than 30 seconds on each side. Serve the eggs with toast, a slice of honeydew melon, and a small ramekin of salsa.
Serves 6 Per serving: Calories 977.6, Fat 44.7 g, Saturated fat 7 g (38.3 percent of calories from fat), Protein 17.6 g, Carbohydrate 144.4 g, Cholesterol 217 mg, Fiber 12 g.
From The Healthy Kitchen: Recipes for a Better Body, Life, and Spirit, by Andrew Weil, Rosie Daley. Copyright, April 2, 2002 , Knopf used by permission.
Other Recipes That You Might Like